The festive season is here, and so is the winter. We all know what this means. Being stuck at home for the better part of the next few weeks as it continues to snow out there. You probably miss your favorite cocktail. Come to think of it, the idea of going out in this weather just for a drink sounds ridiculous, right?
We all want to enjoy our favorite cocktail but not at the expense of our comfort. To this end, we bring you these ten hot winter cocktails you can spruce up with a countertop ice maker and enjoy from the comfort of your home.
10 Easy Winter Cocktails Recipes
●     Ski Lift
Winter is the perfect season for hot cocoa, a drink you can create in different creative ways. With whipped cream, hot peppermint schnapps, dark creme de cocoa, creme de menthe, and hot chocolate, you'll find a comforting taste in your mug.
●     Snowball
The cold season presents the ideal opportunity to play with some traditional recipes of yesteryears. The snowball is among the classic winter cocktails that treat to an ancient yet heavenly taste. Just spruce up ginger ale, syrup, brandy, and an egg, voila! You have a delightful winter cocktail.
●     B&B
Sometimes a cocktail's richness lies in its simplicity. Take Benedictine's D.O.M and Brandy (B&B); for instance, it is one of the simplest cocktails to make yet remains the most famous. Just a mixture of two spirits makes it one of the best classic winter cocktails, perfect for a nightcap. With just an ounce and a half of your favorite brandy, another one and a half ounces of Benedictine DOM Liqueur, enjoy aroma and sophistication on one snifter.
●     Tanqueray Almond
Another classic cocktail is known for its unique aroma, rich taste, and easy to make recipe. A combination of amaretto, bitters, sour mix, maraschino, and the Tanqueray London Dry Gin brings out this rich and elegant winter gin cocktail. Served with ice in a snifter, the Tanqueray Almond is a drink that you will definitely enjoy.
●     Maple Pecan Latte
Perfect just for cold months, the Maple Pecan Latte brings the coffee shop to your home. If you haven't tasted the winter bourbon cocktails, then now is the ideal time to experiment with this coffee drink. A brew of hot espresso, steamed milk, maple Pecan syrup, and a shot of bourbon and whiskey makes this fabulous drink that will warm you up from the inside.
●     Frostbite
Frostbite doesn't fall anywhere near your favorite winter tequila cocktails. Not that it doesn't meet the rich, delicious taste of a typical tequila, but because it's special in its own unique way. Fruity and blue with a little orange, ola little cream, and a little chocolate, it's your ultimate companion during those dull, boring days.
●     Holiday Hopper Cocktail
A garnish of mint leaves and raspberries gives this winter cocktail a real festive appeal. With a dash of lemon liqueur to give it an enhanced fruity flavor, chocolate mint base, and cream, the holiday hopper cocktail is a perfect after-dinner drink.
●     Pear Cobbler
Plentiful during the winter season, pears make a great winter cocktail recipe. Enjoy the pear Cobbler cocktail in a mixture of pear brandy, cinnamon syrup, and sherry. You can play with this recipe by adding other fruit varieties to bring out a unique flavor.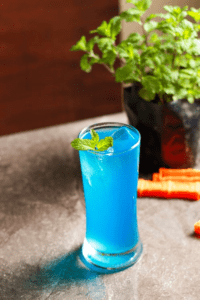 ●     Easy Rum Eggnog
Classics remains the leader of cocktails, and rum eggnog is proudly in the mix. Easy to make yet so expensive in taste and ingredients, this homemade cocktail isn't anything you will find at your local store. You can make this winter cocktail with a blend of sugar, nutmeg, an egg, rum, and port wine (the port wine costs more but definitely worth it. You can never have enough of this drink.
●     Habanero Blood Orange Margarita
The blood orange is a blend of sweet citrus that you can easily find during the winter through to the following months. Add to it reposado tequila and a mole negro rim, and you get Habanero Blood Orange Margarita, a cocktail that will warm your chilled bones and make you enjoy the season even more.
Conclusion
A unique blend of tasty cocktails is the perfect gift you can offer yourself and your loved one during the winter season. Fill up your days indoors with these easy winter cocktail recipes and enjoy.
Latest posts by Odyssey News
(see all)