What day is Amazon Prime Day?
Prime Day is a 48-hour annual sale event run by Amazon. It was originally launched in 2015 to celebrate Amazon's 20th birthday. Every year since then, Amazon has unveiled a huge number of deals and offers every year on Prime Day across all product categories, including sports and fitness. While many deals run for the entire 48 hours, Amazon also frequently refreshes its selection of time-sensitive 'lightning deals, so be sure to check back regularly for new deals.
Is Amazon Prime Day only for Prime members?
Yes, Amazon Prime Day is an exclusive event for Prime members.
How long does Prime Day run for?
The event runs for 48-hours, starting at 00:01 on June 21 and ending at midnight on June 22. While some deals will be available for the entire two days, other 'lightning deals' are time or stock-sensitive and may end before the 48 hours are up.
How do you find the best Prime Day fitness deals?
Head to Amazon and click on the Prime Day offers to see the best deals available. Alternatively, if you're after sports equipment, gadgets, or activewear, read on for the best Prime Day fitness deals.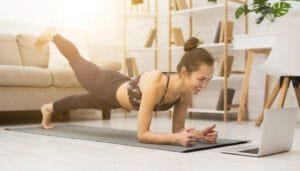 10 of the best Prime Day fitness deals 2021
1. FitBits
Save up to 40 percent on FitBit Wearables, including Sense, Inspire 2, and Versa 2. These lightweight fitness trackers are perfect for monitoring your health and fitness. Plus, they have a variety of built-in features, including heart-rate monitors, sleep trackers, GPS trackers, and step counters. When you want to examine your data and progress, simply sync the watch with the FitBit app. The FitBit Versa 2 was original £199.99, but for the Prime Day fitness deals, it's now only £113, saving you nearly £90!
2. Nordictrack Treadmills and Exercise Machines
Save 40 percent on treadmills, rowing machines, and exercise bikes from Nordictrack. All workout equipment from Nordictrack features an HD Interactive Touchscreen Display, which streams On-Demand iFit workouts into your home. Plus, the workout machines feature a range of intensities, allowing you to build up your fitness and progress over time. The Rowing Machine was original £1499, but now it's only £999.99, saving you over £500!
3. Women's Activewear: multiple offers in Prime Day fitness deals
Amazon has unveiled hundreds of offers on its selection of women's activewear. From running leggings and yoga pants to swimming costumes and jackets, the selection caters to a variety of different sports. Plus, there are many top-of-the-range brands featured in the deals, including PUMA, Regatta, and Speedo.
Looking to take your home workouts to the next level? Amazon has included a few different weight benches in its Prime Day fitness deals, including the Perlecare Adjustable Weight Bench (was £119.99, now £64.44), which you can save 46 percent on.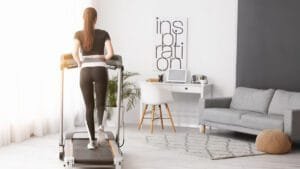 5. New Balance Socks
New Balance creates a wide range of socks for different sporting activities, including running and yoga. The socks are designed with comfort and durability in mind. Plus, right now, you can get 30 percent off the entire collection with the Prime Day fitness deals!
6. Resistance Bands
Resistance bands require little space, making them a great option for home workout equipment. Plus, they can greatly improve your strength and flexibility. You can currently get 49 percent off the Topelek Resistance Band Set (which was £19.99, now £10.10), which includes five different resistance levels.
7. Large Yoga Mats
Save 38 percent on the Extra Large Yoga Mats from Cambivo (was £72.99, now £45.50). These large yoga mats are perfect if you prefer to have more space when completing your yoga practice. Plus, the padded material is designed to be extra-grippy and supportive.
8. Skipping Ropes
Skipping is a great way to improve your cardiovascular health. Save 40 percent on the Beast Gear Skipping Rope (was £19.97, now £11.98), which is scientifically designed to be lightweight and durable, thanks to industrial-strength aluminum. They also feature BG Grip Grooves for perfect grip.
9. Paddle Boards
Get ready for summer with your very own paddleboard! You can currently save 22 percent (around £100) on the Sportstech WBX Inflatable Stand Up Paddle Board (was £409, now £317.80). Plus, the inflatable board comes with all the essentials you'll need, including a carrying bag, a powerful air pump, a kayak seat, an adjustable paddle, a safety rope, and a quick repair kit.
10. Everlast Punching Bag
Composed of high-quality and durable materials, the Everlast Nevatear Heavy Punch Bag (which was £69, now £48.30) is designed to absorb the intensity of your strikes. Because of this, they are perfect for strength training and suitable for a wide range of abilities. Plus, they are currently 30 percent off in the Prime Day fitness deals!
Latest posts by Odyssey News
(see all)