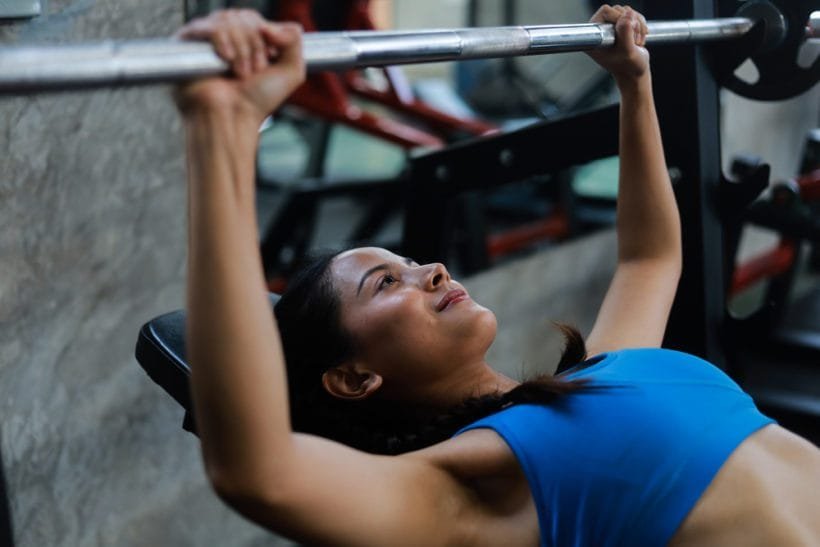 From circuits to boxing, stepper to free weights, a good sports bra helps banish the bounce. Emma Lewis helps you find the perfect one for your needs
Call it a design flaw, but our breasts don't come with enough in-built support to let us jump up and down in complete comfort. The Cooper's ligaments, which give structure to our breasts, have their work cut out in a HIIT class. In fact, our boobs move an average of 10cm in several directions during higher-impact activities*. That's why a supportive sports bra is a must to help you avoid breast pain and keep the tissue healthy.
Where to start when researching which one to buy though? We asked Joanna Wakefield-Scurr, professor of biomechanics and head of the Research Group in Breast Health at the University of Portsmouth. 'Don't assume that if you're moving at lower speeds, your breast movement is less than when you're moving at higher speeds,' she says. 'Power walking or jogging, or something with a lot of up and down movement, can actually produce more breast movement than running really fast.' Interesting.
So, unless you're heading for a low-impact class such as yoga or Pilates, or doing weights or stretch sessions, it's safest to go big on support. 'I'd recommend an encapsulation bra [one that separates the breasts into separate cups] or one with a mixture of compression and encapsulation,' she says. 'These offer more support than pure compression versions [think crop-tops that hold the breasts against your chest], which have to stretch over your shoulders when you put them on.'
Fit is foremost
Next up is fit. Don't assume you're always the same cup size. 'Make sure you understand the cross-grade system,' says Wakefield-Scurr. 'If, for example, a size 34D in the bra you try fits in the cup but the under band's too big, go for a 32 band, but up the cup to an E. This will give you the same amount of material for the cup as the D did, as the band is now smaller.' Find one cup that fits better than the other? 'If you're one of the 97 percent of women who have one breast larger than the other, try shortening the strap more on the smaller side if there's less than a cup size indifference. For bigger differences, look for companies that offer bras with adjustable cups,' adds Wakefield-Scurr.
The University of Portsmouth's research group has a few more things to look out for. The underband gives 80 percent of the support and should fit firmly but not affect your breathing or make flesh bulge over it. If it rides up at the back, it's too big. Meanwhile, shoulder straps should give support without being so tight they dig into the skin. If there's an underwire, it shouldn't press into the soft breast tissue. And with encapsulation bras, the center part should sit on your breast bone. If it gapes away from your chest, go for bigger cup size.
So, when you think you've found a comfy bra where the cups, underband, and straps fit well, it's time to do the ultimate test to see how much jiggle you'll get. 'Look in the mirror as you do star jumps!' says Wakefield-Scurr.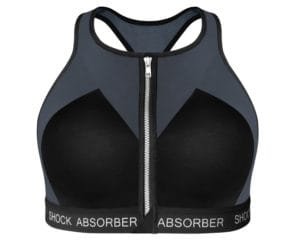 A great combo of top-notch support and freedom of movement for the shoulders (thanks to the slim, Y-shaped, adjustable back strap) makes this good-looking bra a workout must-have. It comes up high at the front to preserve your modesty while you are lower for that deadlift, while the structured shape, loads of compression, and wide, adjustable underband give this hybrid encapsulation/compression bra impressive support for high-impact activities, too. The zip front means it's easy to take on and off and the breathable molded cups also give it a bit of shape, while the bra's material helps keep sweat under control. While next-of-skin comfort isn't quite as good as some bras, its performance is what serious gym-goers are looking for. Put it on and go get 'em! Sizes 30A to 40F.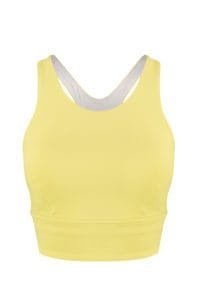 This stylish bra top combines superior coverage with a flatteringly feminine look, fantastic next-to-skin comfort and faff-free use. A great option for those who do the rounds of the gym floor or lower-impact classes, the racerback style plus Lycra-containing fabric allows for a large range of movement. The really wide underband gives great support for small to medium boobs as you lift those weights or pedal on the stationary bike. The Everlux fabric wicks moisture impressively and the (non-adjustable) bra comes with optional, removable cups and in UK clothes sizes 6 to 18.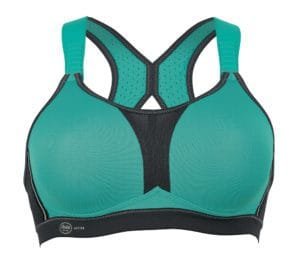 ANITA DYNAMIX STAR, £55
Racerback styles can require acts of contortion to get them on and off, but not this one, thanks to its "open-wide back" that's perforated to keep you cool. If comfort's a priority and you major on lower-impact activities, this good-looking, lightweight, Red Dot design winner is a great bet. Somehow the front-adjustable straps with super-soft padding don't dig in at the neck as some racerbacks can. Meanwhile, the thin material on the cups is pre-shaped so there are no seams, and the internal terry cloth fabric is a joy. Three-way stretch in the adjustable underband helps you move freely, but I wouldn't wear this one for really high-impact activities. Sizes 32A to 40G.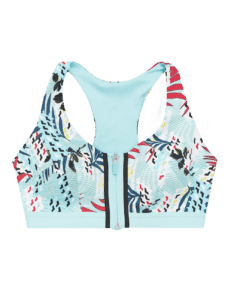 M&S EXTRA HIGH IMPACT BRA, £25
The latest version of M&S's bestselling sports bra with zip front looks great and now comes in bigger cup sizes, too. It's easy to put on and take off, thanks to the front opening, and luckily, as there's no way to adjust it, it had a really snug fit, with a nicely supportive underband. It copes well with high-impact exercises, thanks to its combo of encapsulation and compression, while moisture-wicking Cool Comfort technology helps keep sweat at bay. This great-value bra comes in sizes 32A-42H and would suit those who want the look of a compression bra with more support. Some people might like a bit of adjustability though.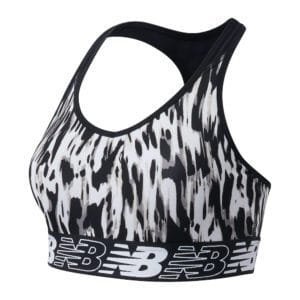 Are you always rushing to the gym? Just throw on this great-value compression bra and you're good to go! It's pretty comfy and scores well in the style department as well, looking good enough to be worn solo. The "stabilized front straps to minimize vertical movement" meant it performed better than your average compression bra for higher-impact activity, too. The slim, mesh, T-shaped back strap and DRYx fast-drying material elsewhere helps sweat evaporate to keep you cool, and you get a wide range of movement through the arms and shoulders, making it a great choice for general gym sessions and classes. Sizes run from XS to XL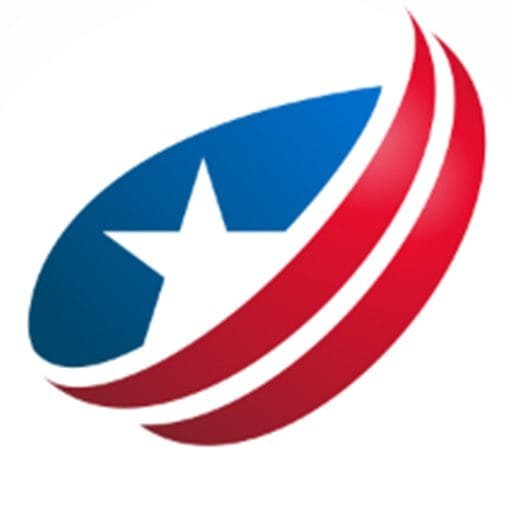 Odyssey has been the lead content writer and content marketer. He has vast experience in the field of writing. His SEO strategies help businesses to gain maximum traffic and success.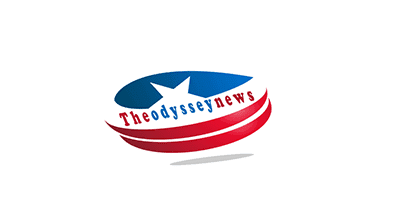 5 Things that you should eat to increase our stamina?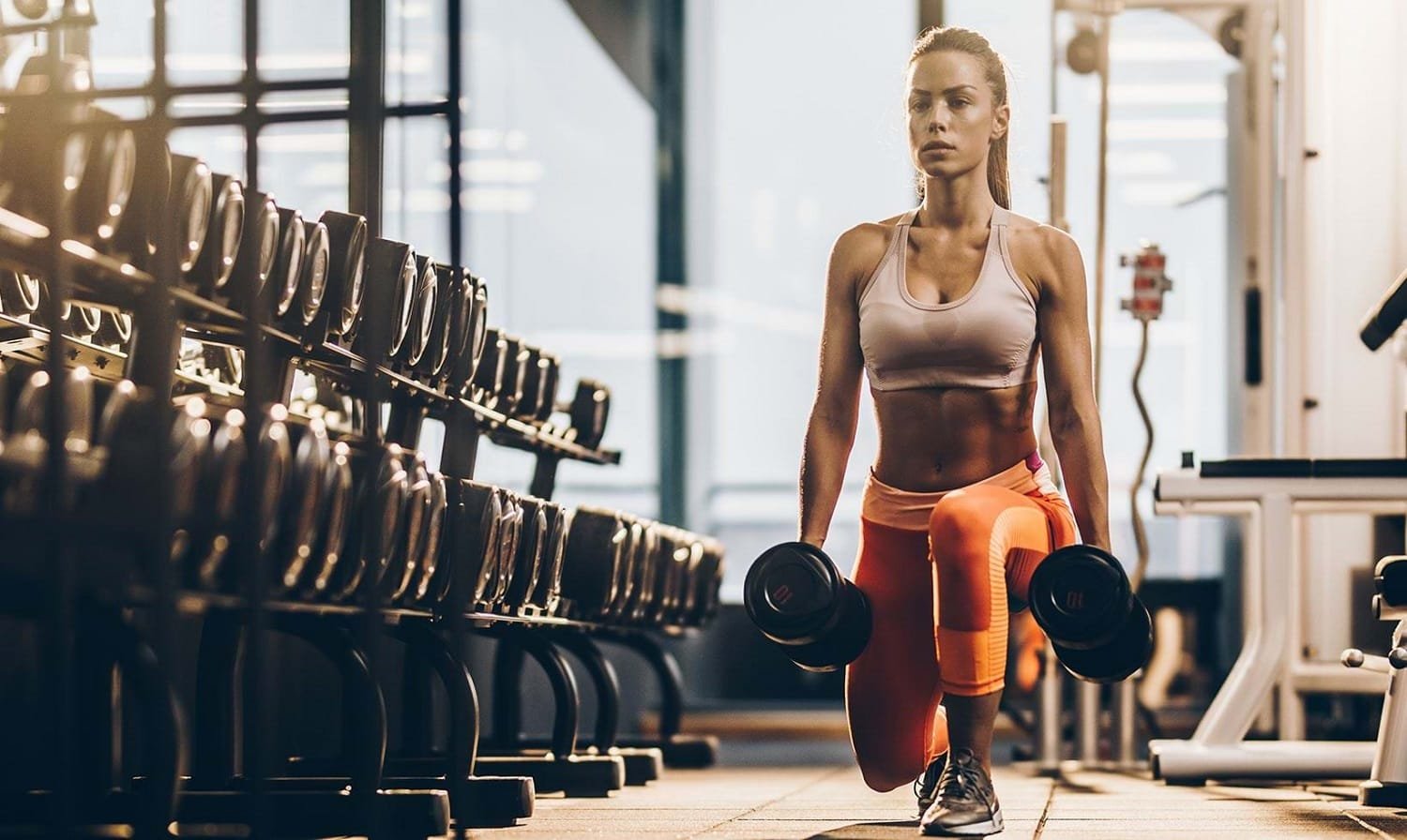 Stamina is the energy and strength you retain. It allows you to endure long ages of internal and physical risk. How to increase stamina? It's a question numerous people ask whether they're an athlete or a non – athlete.
The crucial point in answering the question is an admixture of diet, exercise, and healthy life.
For starters, it's common to feel fatigued after a long day at work or in the gym. However, you can drop prostration, If you know the simple ways to increase your stamina. Advanced stamina situations will allow you to go harder if your focus is to get fit. It'll help you increase the number of reps for each exercise. And it won't be long before you reach your fitness pretensions. Before we move on to the tips, you must know that we also have Assignment help services to make you score high in your assignments.
Best Foods to Increase Stamina
In the context of how to increase stamina by food, add the ensuing options to your reflections
1. Bananas
When it comes to perfecting your stamina, you need to snack only on suitable foods.
Bananas are always an excellent option, as they give high quantities of energy. In addition, every serving will give you nutrients like vitamin B6, potassium, carbohydrates, fiber, fats, and protein.
Make sure you snack on this before you do the below exercises.
 2. Brown rice
Still, you should switch to its brown variant, If you have the habit of eating white rice. Due to the lower quantities of processing, you'll get further nutrients from the food.
In extension, complicated carbohydrates are the legend to better stamina. It takes longer for your body to break down brown rice, icing you have energy throughout the day.
You'll get manganese, protein, fat, fiber, carbohydrates, iron, magnesium, phosphorus, and selenium with every serving.
 3. Coffee
Are you someone who can't start the day without a mug of coffee? Also, you can continue the habit if you're looking to increase your stamina.
In addition, as it stimulates the brain and your body, you'll find it easier to concentrate. The stylish part is that a single mug of black coffee contains only two calories.
As it stimulates the brain and your body, you'll find it easier to concentrate. The stylish part is that if you have a single mug of black coffee, it only contains two calories.
 4. Eggs and Chicken
Eggs are an excellent food to add to your diet because of the quantum of energy they give. Every serving gives you high quantities of carbohydrates. As a result, you'll have ample quantities of energy, which will help increase your stamina.
Also, leucine, a type of amino acid, enhances energy production in your body. It helps the body to reduce extra fat and increase your stamina egg are full of vitamin B. it helps the body to breakdown your food
Funk is a source of white meat, which is extensively available everyplace.
 5. Fish
Adding fish to your diet is a must-have, as it's one of the stylish foods to increase stamina. It contains high quantities of omega-3 adipose acids, vital for your brain and body. In addition, tuna and salmon contain DHA and EPA, two adipose acids essential for perfecting your abidance.
When you witness fatigue, there will be inflammation in your body. The omega-3 adipose acids reduce this issue, allowing you to get back over on your bases briskly.
These food types have high quantities of carbohydrates, protein, fiber, and fat. As a result, they bring down the quantum of energy your body releases. The benefit of this process is that you'll observe a significant enhancement in your stamina. Also, they give a variety of nutrients, which are great for your well-being.
 Summary
When the thing is to increase stamina, make sure that you follow the instructions in this companion. The trick is to combine exercise with healthy food options, icing you get stylish of both worlds. When it comes to physical exertion, make sure you do the exercises regularly. Still, you must give your body an acceptable time to recover. In addition, make sure you hydrate yourself, which allows you to push your body for further extended ages.
While it's important to rest between each exercise, try to reduce the duration of the time-out. By adding the position of exertion sluggishly, you'll understand the tricks and ways to increase your stamina. Also, you need an assignment help service don't forget to take Assignment help Singapore from GotoAssignmentHelp.com
My self Emily Brown, a content writer-editor, publisher, associated with GotoAssignmenthelp Gotoassignmenthelp is provided Best class academic writing services all over the world