The 5 Best Action Movies of All Time
Everyone says action movies are too over-the-top, but that doesn't stop them from filling up movie theatres consistently. Explore 5 of the best to watch.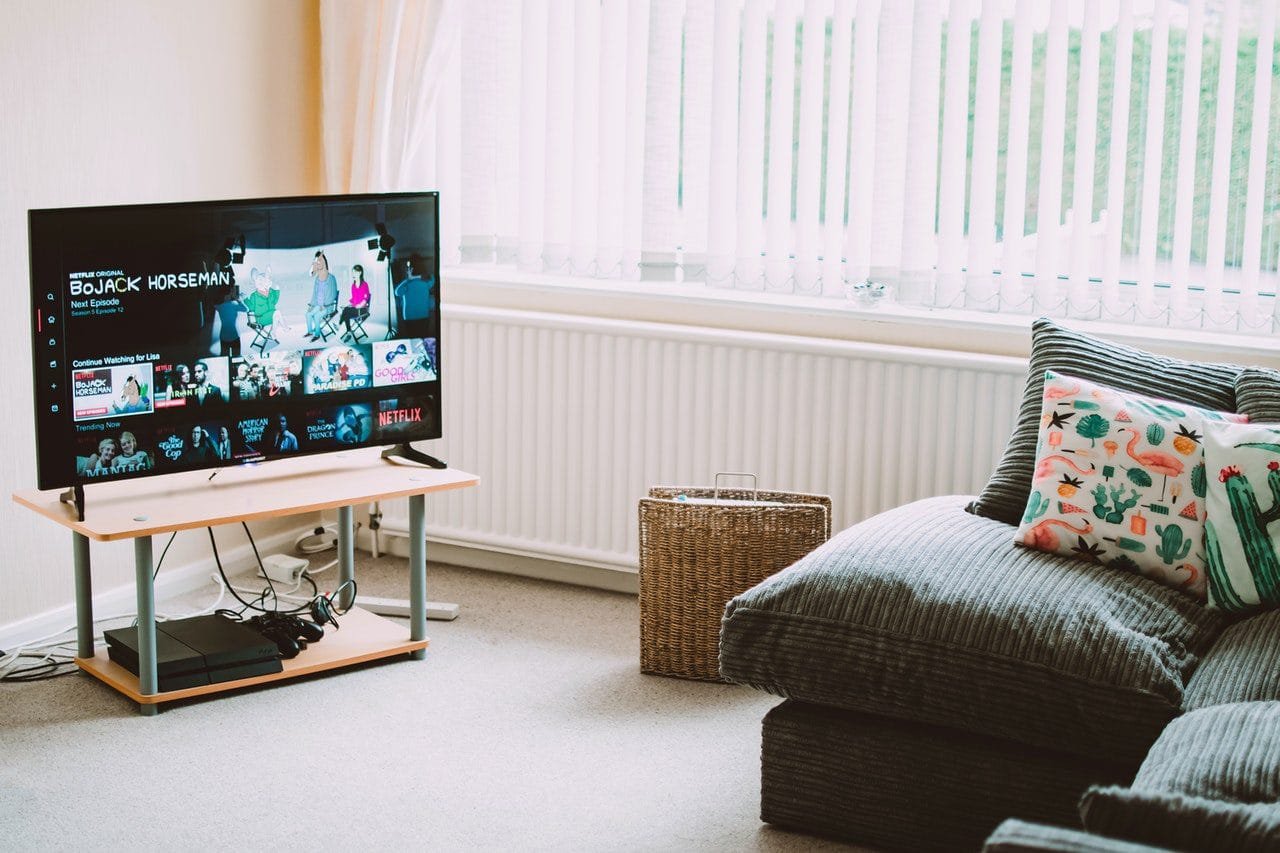 Some people like horror movies, others enjoy crime thrillers. Young lovestruck adults watch teen movies centering around love, relationships, and high school. Entertainment tastes are a many-headed beast, and people's tastes can change constantly. So even if you like all of the above genres, the chances are good that you enjoy an action movie every now and then too. Who doesn't? Cool guys walking away from explosions, a femme fatale in outrageous costumes, the obligatory boss fight. Action movies are a big part of the film industry, and frequently earn hundreds of millions for studios. That's why we continue to see action movies with better budgets, outstanding CGIs, and mind-boggling stunts.
The Best Action Movies Ever (In No Particular Order)
However, among the dozens of action flicks every year, a few have not just retained their popularity, but have actually becoming genre-defining pieces or even cult classics. Many of these may have been released before you were born or were very young. But thanks to the convenience of the Internet Age, all you need to watch them is a device with a screen and services like Spectrum internet plans. This blog explores some of the best action movies of all time that you can watch this year. See if any of the following tickle your adrenaline-rush fancies:
Gladiator
Nothing says action quite like the legendary 2000s action film, Gladiator. Russel Crowe is an actor with a distinguished career spanning several decades, including titles like A Beautiful Mind, Cinderella Man, and American Gangster. But Gladiator remains arguably his best-recognized work, catapulting him to global fame. It's easy to see why, since the movie is set in ancient Rome, a time of gladiators, bloodsports, betrayal, and cut-throat politics. Watch Maximus Decimus Meridius (Crowe), once a renowned Roman general, now a slave, fighting to stay alive in the historic Colosseum of Rome and right a horrible wrong. "Are you not entertained?".
The Guns of Navarone
If you haven't heard of 1961's Guns of Navarone, your dad or uncles can tell you all about it. Based on the popular novel by Alistair Maclean, the movie is set in one of the toughest periods of World War 2. The Germans hold the Mediterranean, by virtue of a monstrous and heavily defended gun placement on the island of Navarone near Greece. Follow Captain Keith Mallory (Gregory Peck), Colonel Andrea (Anthony Quinn), and others on a mission to destroy the guns and protect a relief fleet carrying thousands of wounded British soldiers.
Crouching Tiger, Hidden Dragon
The late, great Bruce Lee is perhaps easily the most recognizable name in martial arts movies. This is even more impressive since the legend only ever starred in one big-budget Hollywood movie. Produced by Warner Brothers in 1973, Crouching Tiger, Hidden Dragon was the stepping stone for Lee's transition into mainstream Hollywood cinema after a successful acting career in the East. Unfortunately, the actor's tragic and untimely demise put a sad end to what would have been an action-packed career to rival greats like Chuck Norris. As it is, you can see Lee's dedication to his craft and to the martial arts. This is something that led him to create an entirely new fighting style of his own known as Jeet Kune Do.
Terminator 2: Judgment Day
The original Terminator was a science-fiction and action smorgasbord. From time travel to robots to cyborgs to guns and excellent (for the time) CGI, it had it all. It even gave Arnold Schwarzenegger his career-defining role, something he has reprised consistently more than 30 years later. So it was smart thinking on James Cameron's part to revisit the success in 1991 with an equally good sequel. Terminator 2: Judgement Day features Arnold as a T-800 one again, but this time as a good guy. Of course, the T-1000 on his trail is not as nice, as the movie will show.
The Fighter
You can talk action all day, but it would be a hollow discussion without including some of the action we love the most: combat sports. Even before the great Joe Louis, boxing has been a mainstay in entertainment. Of course, one immediately tends to picture famous heavyweights like Mohammad Ali, Mike Tyson, George Foreman, or even today's AJ and Tyson Fury. But believe it or not, other weight classes pack a solid punch too. The Fighter is based on real events in the life of Irish welterweight boxer Mickey Ward (Mark Wahlberg). Boxing fans will immediately recognize him as the man who, alongside Arturo "Thunder" Gatti, gave us one of the most intense boxing trilogy fights in the history of the sport.
The Fighter, however, doesn't address Mickey's most high-profile bouts. Instead, it offers a look at the events and people surrounding him. Watch Mickey navigate his elder brother and former boxer now addicted to crack (Christian Bale) who is also his sparring partner. There are also a bossy and controlling mom-ager, a fiery new love interest, and a losing streak that threatens to end his career. To explore internet plans that can help you watch films like The Fighter anytime you want, click here. Have an action-packed 2021!
Things to Consider Hiring Interstate Removalists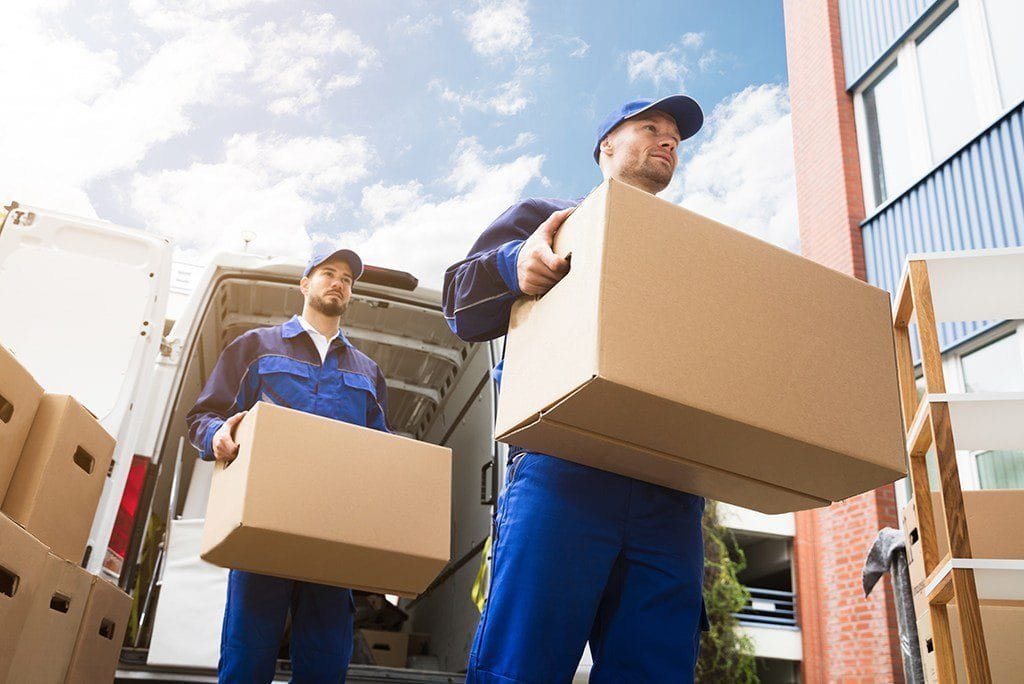 Interstate Relocation is totally lovely, tremendous straightforward to speak with, and helps work around our busy household schedule. I'm so joyful we found them and thank you so much for House-proud Cleaning Glen haven. We have been serving to shoppers to successfully get again their security deposit and that is the rationale why they all the time believe us. We take satisfaction in being a dependable associate for vacate cleaning in Perth. Here is what makes us superior. We are extremely beneficial in the neighborhood for our distinctive service quality and affordability. No matter what half of Perth do you live in, we are going to serve you in your location.
We have varied groups of help staff specializing in providing totally different bits of help and providers for purchasers. And to high, it all of them has been each such pretty nice guy. The Prestige guys arrived at our place in Kew lifeless at 8 am as per the appointment.
Are you confused about the finish of the lease cleaning course or nervous that you won't get your bond back? Are you working out of time to totally clean your house earlier than you move? If you answer yes to any of those questions, contact Jim's Office Removals Melbourne today. We can handle the complete finish of the lease cleaning process from start to finish, so you presumably can obtain your full bond. The lovely lady who came to wash was fast, environment-friendly, thorough, and pleasant.
That means you'll not pay something further to our group of pros for this second go-to. Our bond cleaning staff only uses and promotes solely eco-cleaning solutions for providing you with high-quality cleaning output. We use biodegradable and non-toxic cleaning merchandise that doesn't hurt anyone's wellbeing and the environment as nicely.
Examples are balconies and patios, or any space that cannot be fully closed off such as an outdoor area of a home with only three walls. As per our inclusions, we are going to clean any outdoor space as required nevertheless due to climate circumstances we cannot warrant these areas. We will clean the outside home windows the place we can nonetheless as a result of weather circumstances we cannot warrant them. Items similar to fridges, furniture, or any objects not listed within the inclusions are not going to be cleaned unless otherwise agreed upon by both events in writing. Damp spots can occur anywhere in the home, usually, the 'dry wall' plaster could be affected. We will do our best to take away any mounds and marks from Damp spots nevertheless we can't completely make these spots disappear.
No doubts about getting your deposit again. I obtained a few reminders earlier than the appointment with the choice to alter if wanted. The cleaners had been on time, did an incredible job, and left the home spotlessly clean. I can extremely advocate for this local enterprise. We are Removal, a neighborhood professional cleansing service supplier in Melbourne. We offer inexpensive, reliable, and flexible cleansing providers to make your life easier. We use specialist environmentally-friendly cleaning merchandise and equipment for all our common providers.
Our cleaners are passionate about serving tenants with their unsurpassed service and attempt to achieve the finest possible cleaning. It is the diligence and expertise of our experienced professionals which permits us to offer the bond again guarantee. We take satisfaction in being top-of-the-line cleaning companies in Perth, which is assured of retrieving your deposit. Our premium service high quality and proven procedures ensure Office Removalists Melbourne that the whole vacate cleansing process is accomplished smoothly and without dealing with any challenges.
Shonda Rimes' 'Bridgerton' Fashion Is Making A Comeback In 2021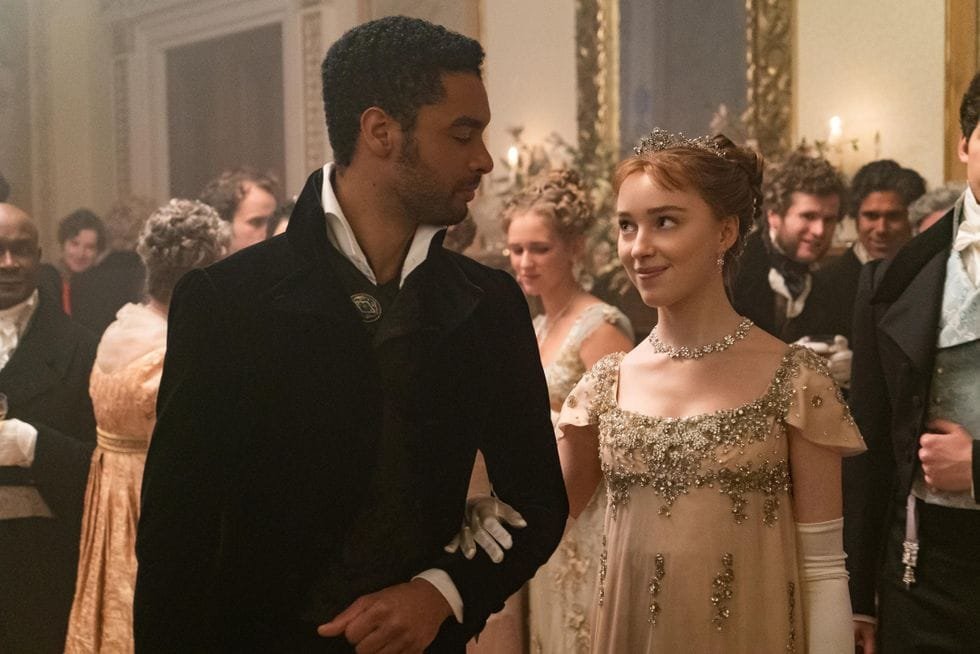 Do it. Be bold.
"Bridgerton' is a period drama created by Chris Van Dusen and produced by Shonda Rhimes based on a series of novels written by Julia Quinn. The show follows the eight siblings of the Bridgerton family as they attempt to find love and happiness in London high society.
Since its release, Bridgerton has taken the world by storm and has left every viewer talking about it. While fans of the show have been left with a lot to discuss, one of the conversations I hear most frequently is about fashion. Fans can't get enough of the show's regal and vintage fashion. So much so that this new interest in fashion from this era has been dubbed as "Regencycore." As the popularity of this show and similar shows only continues to grow, I suspect to see this trend only continue to grow throughout the next year. So here is how I think Bridgerton and Regencycore style will affect fashion trends in 2021.
1. Corset tops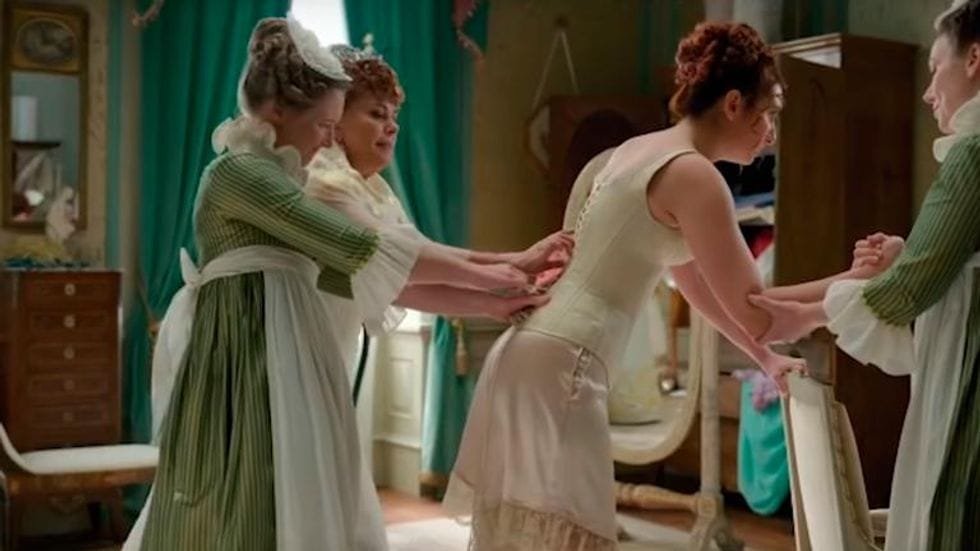 Over the years, corset tops have started to make a comeback. It started slow but began gaining popularity in 2019 when women viewed them as a way to accentuate their figure. Now it is one of the best ways to achieve a vintage look with a modern twist. Personally, I think vibrant corset tops will be all the rage as we get into the spring months.
2. Puff sleeves
Throughout 2020, puff sleeves were a major trend and I think it will remain pretty popular throughout the next year. I've already seen a lot of women rock a puff sleeve corset detail top this year. Honestly, this trend is a hit with me and I really hope it sticks around.
3. Floral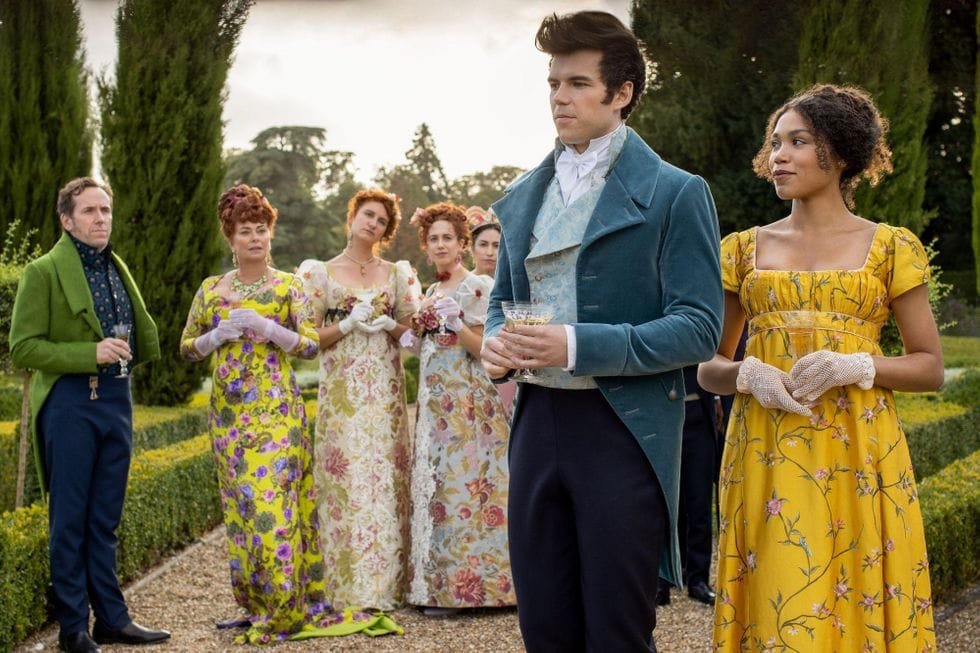 Floral is a trend that is constantly coming and going. You really can't ever get rid of it. For the spring, I think floral is going to be a staple in fashion in order to help achieve the vintage aesthetic that many want to achieve.
4. Midi Dresses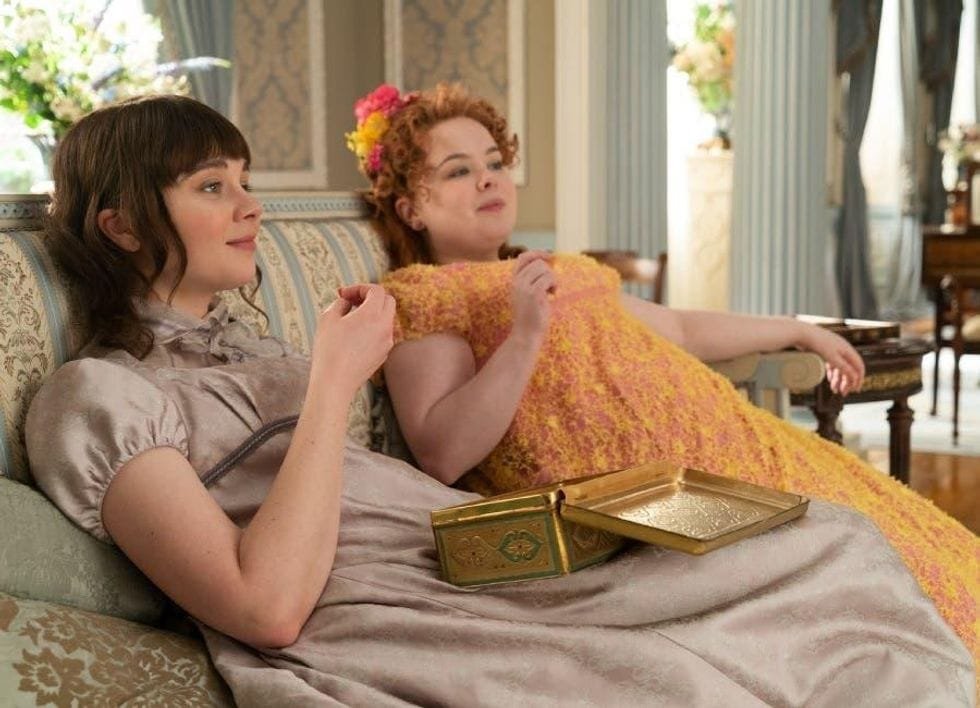 This spring, I think midi dresses are going to be another great way for individuals to achieve a vintage aesthetic. The reason I think that midi dresses will be so popular is that is it is a great way you can combine some of the other trends as well. There are so many cute midi dresses that also combine florals or a puff sleeve. There's also something very elegant and whimsical about this style of dress that I think a lot of people will like.
5. All of the accessories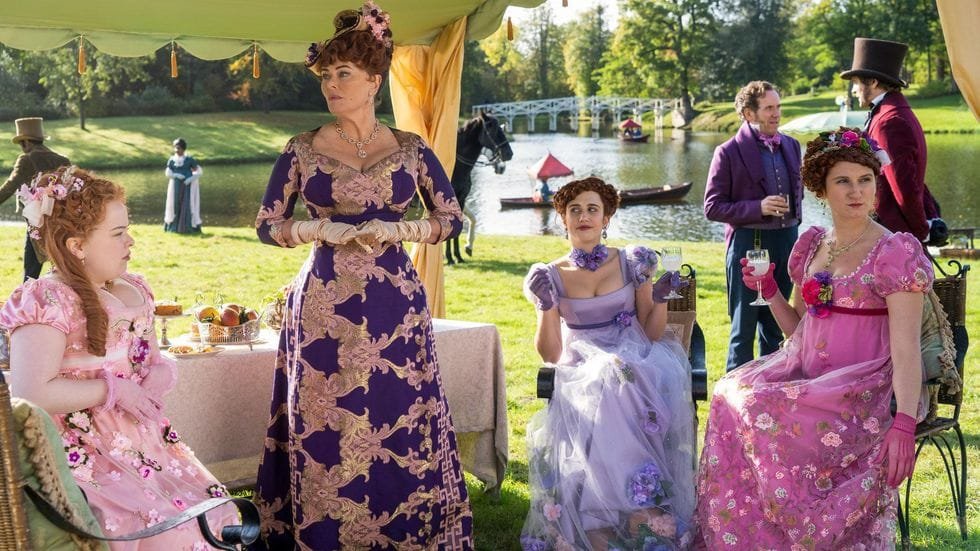 In Bridgerton, the women are known to over-accessorize. In order to achieve this look, I see a move less towards dainty jewelry and back towards statement pieces. I also see headpieces such as headbands, ribbons, and maybe even flower crowns coming back. That will really depend on how people decide to style it. Finally, in accessories, I've read a lot about gloves. Personally, I am not really interested in gloves but I know a lot of people are feeling inspired to bring gloves back in fashion.