The 3+3 Guide to A Great Web Design Portfolio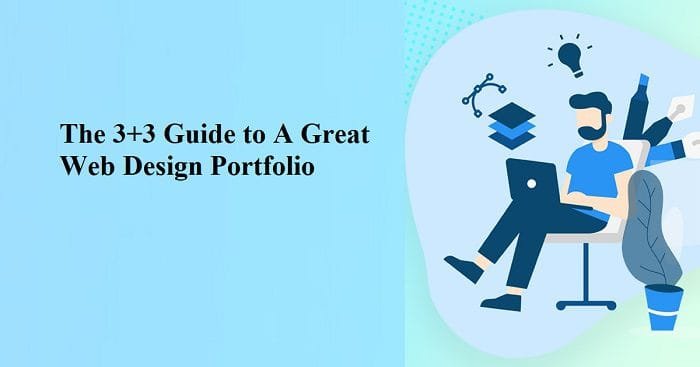 Do you know that there's a difference between a resume and a portfolio. There's no rocket science in understanding the difference. While other professionals have a resume; web designers and web developers have a portfolio. With a web design portfolio, a professional web designer tells its clients/recruiters about everything he/she is capable of and everything that has been accomplished previously.
A web designer's portfolio is the surefire tool for self-marketing. Showcasing or exhibiting the projects becomes a cakewalk with a portfolio. Conceiving an amazing and creative portfolio isn't daunting. You can come across multifarious ideas scattered all over the internet in the form of YouTube tutorials or blog posts. Though they don't guarantee the next opportunity, they do assure the portfolio upsurge.
There's a way to bedeck the web design portfolio. By following the process step by step, it becomes easier to design a professional portfolio aptly. If you are reading this line, you're eager to build an effective portfolio. Peruse ahead to understand for crafting an effective and vital web design portfolio. Let's dive in.
The Golden Elements
As per a recent survey conducted by an American I.T magazine, portfolios with the accurate order of elements increase the chance for bagging an opportunity by 15%. But that doesn't mean other portfolios remain on the turf. It's just about the design discipline that companies/clients adore.
Introduce Your Professional Side
Trends change with time and when it comes to a portfolio, your hobbies and taste in music are the least priority for recruiters. They are interested in your professional accomplishments, industry expertise, and so on. Always highlight the projects because they add weight to the portfolio. With the accuracy of these details, the genuineness of the portfolio will automatically shoot up. It is mandatory because recruiters & clients go through a lot of web design portfolios before making the final conclusion. Watch out for this step! Always include that little bit of contribution that adds weight to the portfolio.
A Bit of Bragging Never Harms
On an honest note, when web designers and web developers get creative, they're bound to produce the Magnum Opus of their resumes and portfolios. Your portfolio is a reflection of your work. You must mention your prowess in it. But hey, being quirky is an art and should be executed with perfection. Looking out for inspirations isn't bad. Always checkout some amazing web design portfolio examples online because you might end up bagging a lot of ideas.
Rolling Over Challenges
Here's another way to tell others about your Game Changer quality. Whether you resolved a project you didn't make or learned a new skill or authored a blog/article post, simply include it in the portfolio separately. How did you tackle the problem, if faced, put it on the portfolio. This will help the recruiter/prospective clients with your additional skills.
The Link To Social Media
If you are sharing your work samples on social media, congratulations, you're on the right path. Now you just require sharing the link to your work samples in the portfolio. Adding a screenshot would recruiters/clients to understand the amazing output for which you've been grinding day & night for hours. Undoubtedly, integrating social media links means driving more positive results. If your work has been shared, by any means, it is a great add-on for your portfolio.
The Logo
This one is a crucial point. There are several web designers that have branded their businesses. Sadly, they do not include the logo. For web designers, the brand logo holds importance because it reflects them in the professional world. If you're among those having a branded business then never overlook the logo. Always include it in the portfolio because it will make the portfolio look more professional to prospective clients.
Context of Projects
To form the portfolio standout, including the setting of projects ought to not be untouched. Reverberating with a client and giving the proper subtle elements like what was done on the venture and how it was done should be specified. Specify each detail for finishing the project, the extra add-ons, adjust etc. Make beyond any doubt that source code or its test is unmistakable to the open on your portfolio. This would offer assistance to your prospect clients to get it how flawless your code is. A few key focuses are recorded underneath that ought to be highlighted:
A brief depiction of the project & its requirements
For whom the venture was (personal/client)
When was the project accomplished
Things To Keep At Bay
There are a hell lot of things that shouldn't be included in a web design portfolio. We're highlighting the rational ones as of 2021. Do not miss out on them.
Just because it is popular doesn't make it a mandatory element of the portfolio. Honestly, it is an outdated embellishment that a lot of web designers in India are using. Wake up guys, this ain't a necessity. Even the prospective recruiter cannot clearly understand the authentic skill set prowess. Chuck it from the portfolio because it will not fetch you the front row.
Web Design Guru, Web Stylist, Web Doctor etc.- Such quirkiness makes you a douche bag. There are professional industry titles that exist for a reason and the web search is performed using those specific terms. Just avoid this quirkiness, please.
Your peers find you funny don't mean recruiters would find you funny too. When your craft a portfolio, keep it immune from humor, and maintain professionalism. You have n idea about who is reading the portfolio. Exclude humor.
Closing Thoughts
Don't halt upgrading your portfolio after you graduate or begin finding victory. Keep working on it. Update it. Recode it. Your online portfolio presents you to the world and you'll effortlessly miss out on modern openings by not keeping it overhauled. Impose these tips and you'll accomplish a fabulous portfolio.
warning ….?…. Date May/08/2021…?complete your profile…..otherwise, odysseynews did not accept your article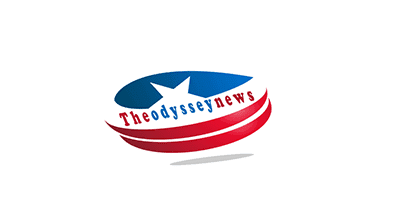 Importance of Basic Car Maintenance Services for Better Performance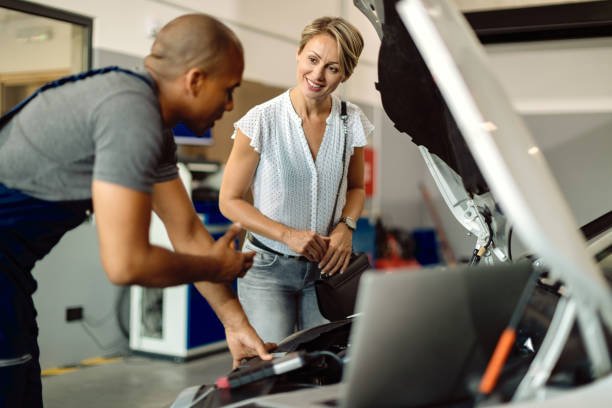 Due to obligations to one's career, family, and a host of other responsibilities, basic auto maintenance may go unattended
. Regular Car Service Swadlincote is more important than you would realize.
By following some basic maintenance suggestions, servicing your car may become easier. But that's not all. 
There are many gratifying advantages to maintaining your automobile that have nothing to do with getting from point A to point B. Your automobile will survive longer if you keep it serviced
. It can even help you get a better resale price if you decide to sell.
Checking the pressure in your tyres and cleaning your automobile may both increase the worth of your car
. It 
really
 is that easy! 
These straightforward automobile maintenance suggestions will help you have a better car ownership experience, from increased fuel economy to maintaining resale value
.
Don't forget to have your car serviced as scheduled.
Consult your vehicle's owner's manual to learn more about the recommended auto maintenance schedule. The majority of the time, basic auto maintenance is inspecting or replacing components like spark plugs, wiring, fluids, and serpentine belts
. It might be preferable to schedule maintenance appointments with your dealer. There are at least three reasonable reasons for this:
Genuine components and skilled customer support are the primary factors. 
To maintain your automobile functioning 
smoothly
, your local dealer will have the necessary components and knowledge
.
Dealers 
frequently
 apply a label to your car reminding you when your next maintenance appointment is, along with the date
. 
However
, some places may go one step further and send you emails to confirm your appointment. 
By doing this, you'll be able to choose a time that works for you and be more likely to remember the day and time of your appointment
.
The second justification relates to the past. You can receive the vehicle's whole service history if you take it to the same Toyota dealer for service. 
When evaluating your car for 
purchase
, potential purchasers can view this as an extra benefit
.
The third relates to the cost. A well-kept vehicle with current records sells for more money. If you want to sell, you can receive a 
substantially
 higher reward.
Consult your owner's manual.
Your owner's handbook will outline the recommended servicing intervals for you. It also includes a tonne of other useful information.
You can find advice on using the right oil and gas, how to identify faults, and how to use the infotainment system in your owner's handbook
. 
It will aid in your beginning process and provide a solid foundation of information on the characteristics and needs of your particular car
. 
Reading your car's owner's handbook is the best approach to understanding its requirements because every vehicle is unique
.
Why Oil Changes Are Important?
Maintaining the performance of your car is as easy as getting an oil change. 
You risk significant harm if your engine's moving parts aren't 
effectively
 lubricated by clean oil
. 
In fact, neglecting to change the oil might render your warranty null and useless and 
potentially
 result in engine failure
. You would have to spend a lot of money to rectify the issue if it happened.
The type of oil you use will determine when you need to replace the oil in your automobile. 
Your car 
typically
needs to have its conventional engine oil changed every 3,000 miles or every three months
. 
Every six to twelve months, or every 5,000 to 10,000 miles, synthetic oil has to be usually changed in vehicles that 
utilize
 it
. 
Consult your owner's manual or get in contact with your dealer if you are unsure about the recommended type of oil for your specific car
.
Check Your Tyre Pressure
For both general maintenance and safety reasons, it's crucial to check your tyres' pressure
. 
If your vehicle lacks a TPMS or tyre pressure sensor, spend a few dollars on a tyre gauge and check your tyres 
frequently
. Keeping tyres inflated 
properly
 may save tyre wear and increase fuel economy. 
You can determine if your car is 
properly
 aligned by maintaining proper tyre pressure
. Pay attention to the spare tyre.
Are a car service and an MOT the same thing?
Simply
defined, an MOT determines if your automobile conforms with DVSA 
minimum
 safety requirements and is safe to drive
. Your car is still safe to drive even if it might not be operating at its best after passing an MOT Swadlincote
The aim of the service is to get your car in the best condition possible to lengthen its lifespan.
Services are not required, but driving without one might lead to breakdowns or damage to critical components
.
Spend a few seconds each day inspecting your automobile. There are a few justifications for this, but the health of the vehicle is the primary one. 
Regularly
 inspecting your automobile alerts you to external issues that 
require
 attention, such as low tyre pressure, windscreen cracks, and chipped paint
.