Snap Shots of Business Class On Austrian Air
On April 6th, I booked a flight on Austrian Air from JFK to Heathrow. Here's a brief rundown of the trip.
Priority Boarding
Nothing special here. If you're boarding, you're at the gate in either first or economy. But boarding for my flight was quick and orderly.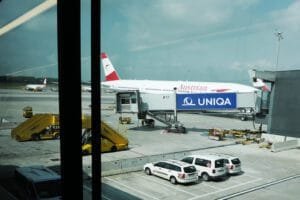 The lounge
Ah, the lounge. I have never seen an airline lounge offer such an incredible selection of drinks. Whatever your palate, there is a choice of drinks for you. The food selection pales by comparison, but it won't disappoint for healthy grab N go food. The best feature of the lounge, however, is the men's and women's showers. They're not extravagant, but they're clean and functional.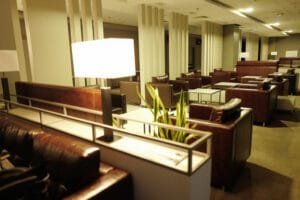 Cabin configuration
I've seen two different configurations: 1-2-1 or 2-2-2, front-facing (as opposed to inward-facing). I prefer front-facing seats whether I'm traveling alone or with a colleague. I guess I'm not a very social traveler.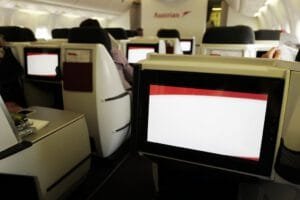 Seat
The seat is narrower than some I've been on, but that doesn't bother me. I'm about 6', 170 lbs and I found the seat spacious. Comfortable too. Like most seats, it has the ability to recline or lie-flat. The seat has multiple pockets for storage, which I found a bit bizarre: how anyone could use that much storage is beyond me. Everywhere you turn, there is a pocket. Not a complaint – just an observation.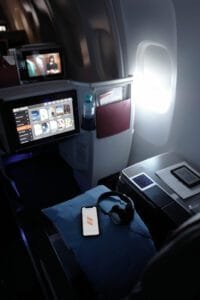 Meals and drinks
Drinks (from a well-stocked bar) and menus come once the cabin is seated. I like eating – especially on Austrian. This is FINE dining: 3 a course meal, beautifully presented, plus a delectable dessert, followed by 10 choices of coffee (!), tea, etc. Special attention should be paid to the appetizers, which were numerous and delicious. After a 5-hour rest, meal-time begins again! I'm hungry just thinking about it. Time to book a flight…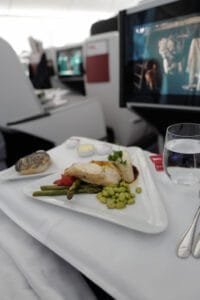 Service
I have yet to have truly bad service on a business-class flight. Service is always good to great. But Austrian goes that extra mile.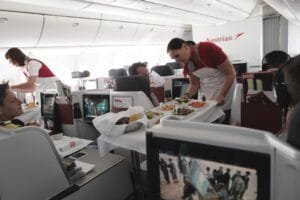 "The little touches make the difference like hand-delivered magazines and warm towels laid in your hands 20 minutes into the flight." Alan Murphy
Entertainment Amenities
IFE remote built into the seat controls your entertainment on a 15-inch adjustable touchscreen monitor. And there are loads to watch/listen to through high-quality, noise cancellation headphones: my flight had 54 movies, 71 TV shows, plenty of kids' entertainment, 64 albums, and free downloadable publications.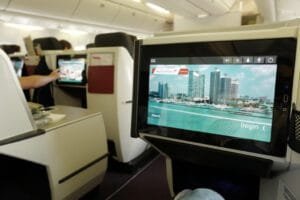 Convenience/Comfort Amenities
You also get a:
full-sized pillow,
thick blanket,
and kit with a comb,
eye mask,
toothbrush/paste,
moist towelettes,
and earplugs.
"Austrian Air is just a solid choice for business-class flying. They get the things that matter right."
https://www.business-class.com/
Online Architecture Rendering Services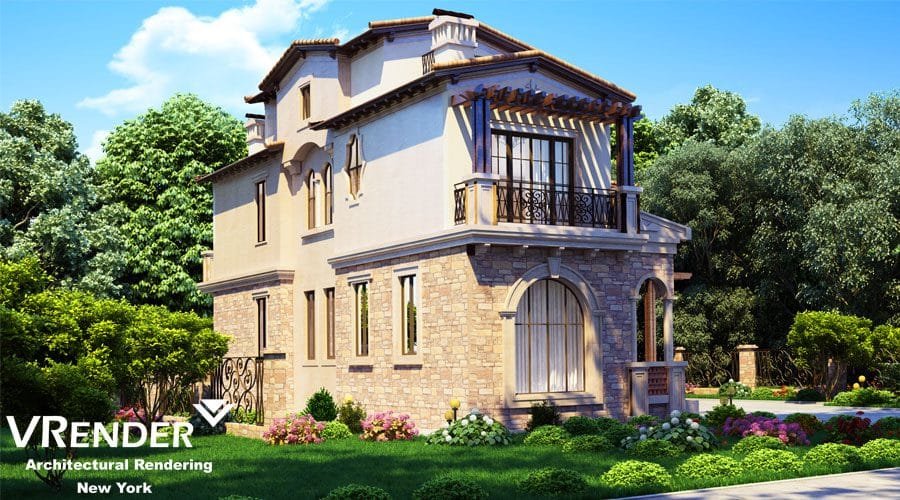 In the past, architectural rendering services were offered to clients on a personalized basis. You have to visit a company that physically offers such services before you can make any progress. Today, the story has changed. Services can now be offered over the Internet. You can access them from the confines of your office or bedroom. All you need to do is discover the correct approach to take.
Actually, online architectural rendering is the art of creating two-dimensional images or animations over the Internet. In most cases, it requires an internet connection or a very fast server. Central computers and mini-computers are also used in the process. Modern laptops are also used for the process. It is fast becoming the best technique used for drawing unique designs around the world.
Today, various render farm studios are popping up here and there. They make use of the Internet to offer quality services to their clients. In most cases, different types of software are used for services. Various types of computer hardware products are also used. The provision services are intended for a variety of purposes. They can be used for virtual tours. They can also be used to create unique movies and animations on the Internet. They are also used to create all kinds of panoramic representations online.
Additionally, online exterior rendering is becoming much needed in the real estate industry. Different types of materials are used to create quality building plans throughout the services. Today, many artists and architects offer services on the Internet. There are also many companies that have gone into business. They offer all kinds of unique services over the internet.
There are several benefits that come with online architectural illustration services. First of all, the services are very easy to locate. All you need is to be properly connected to the Internet. You can easily connect with any of the companies that offer the services online. Second, the services are offered through various interactive platforms. You can easily access any of the services without breaking your brain. Also, the services are very profitable. You'll spend less as you don't need to travel anywhere to access them. You simply need to connect to the network.
Finally, online rendering services are very affordable. They are intended to help architects create quality construction plans and other unique designs for their clients.
10 Secret Techniques for You to Make More Archive Boxes
only missing client backlink
Importance of archive boxes?
Those office files and papers that are not immediately required, are neatly and properly stored in the archive boxes in Australia. They are labeled outside so that identification of the papers becomes easier. Their lids are quite feasible to keep them stacked one upon the other.
Purpose of archive boxes:
There are no chances of falling off the archive packaging boxes.
These archive boxes have a built-in lid, a base, and a handle to hold and move. The handle is strong enough to make it move easily. There are no chances of falling off the base and losing out of the lid or cover.
They are very tough and hard so there are fewer chances of falling off. That is, they can be stacked one upon another. These archive boxes for sale are made up of a double layer of cardboard. They can hold the papers and documents for a longer period. These double-layered cardboard boxes are durable.
Apart from being used in the office, they can be used to store books, CDs, DVDs and many other such things which are no longer in use. They are just occupying the space.
In this article, we will discuss in detail how to assemble more archive boxes in no less time. Although several companies out there are ready to make the custom archive boxes as per your need and requirement. They can assemble them too for your continence without charging even a penny.
Furthermore, we will discuss the cheap archive boxes, archive boxes Australia, archive boxes wholesale, archive packaging boxes, archive boxes for sale, how and where to buy the archive boxes.
Damage to the archive boxes:
Damage to the archive papers and documents only occurs if there was a haphazard while packing, carelessness while packaging the archive boxes, or overstuffing of the archive boxes in Australia may lead to damage to the storage collection.
Assembling of the archive boxes.
Cheap archive boxes are very strong and durable to archive stuff. Buy cheap archive boxes if your only purpose is storage. They are long-lasting too.
Place the flat surface of archive box Australia on the floor. Its writing must be facing the floor. You may seek help if you do not want to assemble it yourself. Like the pillow boxes, you can get them assembled through some professional too.
Stand around the archive packaging box and fold the sides up in a way that it faces into the middle. Then fold up the front. Fold the sides inside the box. Then fold the sides of the box into the slits of the center place.
Lid having flaps on the sides needs to be folded downwards and placed into the center of the lid of the box is assembled.
Finally, fold the upper side of the box into the flaps and end up assembling into the slots of the front.
Secret techniques for assembling more archive boxes:     
Use the hardcover:
Because of the complex construction as well as the hard outside covers, these are the most robust for paper-based materials. Therefore, if the packaging material of the archive packaging boxes is strong and efficient enough to hold the books for a long time then this will prevent the damage of the products.
Proper disclosure of the packaging:
Furthermore, proper air circulation, accurate shelving of books, proper enclosing of the archive boxes Australia, and proper and safe handling while packing and transporting is the key secret of making the cheap archive boxes accurately.
If there will be proper circulation of air and archive packaging boxes are sufficiently packed and not wet from anywhere, it will be fine.
Otherwise, dampness will lead to the growth of the fungus and molds followed by the formation of stagnant air pockets.
Bound volumizing of shelves:
The first and foremost technique of storing bulk archive boxes is to ensure safety and adequate shelves. If the shelving is unappropriated, it will make the passing by inconvenient too. It may result in some damage to other books too as haphazard ultimately leads to some issues.
Precision in shelving:
There may be abrasive if the shelving is not proper. Thus, another mode of keeping the archive boxes is by maintaining a proper distance between the papers, books, and documents to avoid any mishaps or abrasions as it will lead to more issues.
Custom archived boxes:
You may get the custom archive boxes according to the size and shape of your books and documents. Also, measure the size of the shelves where you will stack them. You can archive boxes wholesale to prevent some pennies too.
Although these custom archive boxes will prevent dust, abrasions, and other potential damages as they will be exactly the size of your items.
Mishandling of the bound volumes:
If you mishandle the bound volumes, hold them from the head cap while placing them inside the box, or handle them poorly then this will delay the whole process of archiving the boxes. To prevent any damaged work efficiently and carefully.
Inappropriate method of assembling the boxes:
If you have no idea of assembling or buying the archive boxes, you may call someone for help who is an expert in it. Otherwise, you may create a mess and stress for yourself while trying to assemble inappropriately by yourself.
Storing the oversized papers and documents:
The best and easiest way to store the documents and papers is by putting the right thing in the right box. This will help you in easy packing and stacking. If you keep the oversized stuff in small boxes. You may face failure leading to mess. So, always choose an appropriate archive packaging box for storing the product.
Archive boxes wholesale:
You may buy the archive boxes wholesale. This will prevent your time, money and assist you in proper storing of the products.
Cheap archive boxes:
Cheap archive boxes cannot be the wrong option. But try to store the stuff that is non-abrasive and cannot be damaged by the water or moisture as they may have a single layer of cardboard but are still very strong enough to hold the product easily and accurately.
Therefore, the actual secret does lie in the purchase of the appropriate archive boxes. But the main secret lies in the proper assembling and accurate handling and shelving of the products. Furthermore, the size of the boxes does matter a lot.