Masturbation has been a taboo subject for centuries, but it's time to talk about the bright side.
The pursuit of pleasure is one of the main objectives of the human being . Men and women live not only from reflection and hard work. Pleasure, in its many facets, is associated with happiness and is (or at least should be) something we should all be looking for.
There are many ways to feel pleasure, including sex, either with other people or with yourself. We will talk about this last possibility today, delving into masturbation and its many positive effects on our physical, psychological and physiological health .
Masturbation: Pleasing yourself has its advantages
Masturbation is a sexual behavior that can be defined as any form of sexual self-pleasure obtained through any type of direct physical stimulation. This sexual behavior is widely practiced, since 95% of men and 63% of women have ever masturbated .
Masturbation as a habitual practice usually begins during  adolescence , with boys starting earlier than girls as a trend, with an average starting age of 14 and 16, respectively. A curious fact is that women tend to masturbate more frequently when they are in a stable relationship, on the other hand, men tend to masturbate more when they lose a romantic relationship and become single again.
This sexual behavior is not specifically human, as it is also seen in other animals , especially mammals.
Historical view of masturbation: religion and taboo
Masturbation has been condemned throughout history , giving it a negative connotation and causing or attributing various physical and mental problems to the people who have practiced it.
Thus, for example, the Christian religion has historically persecuted it, considering it even a worse sin than incest or rape in times past. Culturally, masturbation was considered the cause of health problems such as vision loss or infertility, which science strongly denies. Despite this, in times when information and access to scientific sources was a utopia, people firmly believed that masturbation would bring them severe problems, and therefore repressed their instinct to practice it.
But not only religion has transmitted negativity and generated a cultural taboo towards this sexual behavior: several scientists and health professionals have written extensively about the negative effects of masturbation on the health of people who practice it. For example, Tissot , in 1758, considered masturbation as a cause of brain softening .
This practice was also theorized to be one of the causes of  homosexuality , and Kraepelin explained that masturbation was a symptom of various mental illnesses. Sigmund Freud also wrote about this sexual behavior, and had the theory that masturbation was normal in  childhood , but a symptom of immaturity in adulthood, especially in the case of female masturbation.
Physical and psychological benefits of masturbation
Clinical research has been able to show that masturbation is beneficial both physically and psychologically , and in fact, it is widely used as a technique in  sexual and couples therapy
These are some of the benefits of this practice.
Physical benefits
It causes an analgesic effect and can help with menstrual cramps, since it causes a reduction in inflammation of the genital area.
It allows to maintain a healthy state of the genitals: it helps to maintain good lubrication in the case of women, and a good reflection of erection and ejaculation in the case of men.
Some studies indicate that masturbating helps to strengthen the immune system and prevent infections, due to the higher levels of immunoglobin A that can be observed in people who have more orgasms.
Psychological benefits
It helps improve sleep, especially in the case of men, due to the release of  serotonin and opioids.
It has a relaxing effect and a feeling of well-being, helping to release both sexual, physiological and psychological tensions.
It helps to explore and learn about one's sexuality, promoting positive attitudes towards sex and genitalia, and being able to improve sexual functioning in the couple.
10 games in bed to share with your partner
A situation of fun and stimulating games for couples to use all the senses.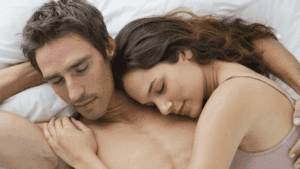 No one doubts that having a good sexual life as a couple improves the satisfaction of the members of the same. And it is that the connection that is created between both in the intimate moments helps to overcome many delicate moments.
Sex helps us in many ways, it not only gives us pleasure. According to some scientific studies, the benefits of sex are:
It helps to reduce stress.
It rejuvenates and helps the couple feel younger.
Extends life.
Improves cardiovascular health.
Improves self-esteem and mood by  releasing endorphins.
Helps to have a stronger immune system.
You can delve into these benefits and learn some more in this article: "The 13 benefits of having sex, according to science "
Games in bed to share with your partner
Sexual relationships are truly enjoyable, but as time in the relationship passes and the monotony gains ground, some couples let the flame of passion go out.
Experts recommend that we be creative so that this does not happen. In the following lines you can find a selection of games in bed that will help you activate your sex life again .
1. Sexual temperature
One of the classics of games in bed is playing with the sensations of our body. To do this it is simply necessary to grab an ice cube or have a hot drink.
It is possible to apply ice directly on the body of the person we want to stimulate, or put it in the mouth for a moment (as with a hot drink) so that when practicing oral sex or licking the partner the sensations are different thanks to the cold tongue or hot.
2. The detainee
Another of the classic erotic games consists of handcuffing one of the members of the couple so that he cannot move. In this game, a stoppage or capture is usually simulated.
One of the two members of the couple is tied hands (and feet in many cases) and is at the mercy of the other person who is responsible for giving pleasure. This situation is very encouraging for many.
3. Dice game
The game of dice is a variation of the previous one. It consists of the two members of the couple being assigned different numbers.
One the two even and the other odd. Then a dice is rolled and the person who wins is the one who will be tied for 5 minutes and will receive the pleasure of the couple.
4. Sex flavors
If the sensations of cold heat can be very pleasant, so can the flavors. There is nothing better than being with the person you love and also delighting the palate with chocolate, strawberries or ice cream.
The taste of each person can change, although some classics are smearing parts of the body with chocolate and cleaning them with the tongue . Also eat strawberries and champagne with the partner in an erotic way. The important thing is not to use your hands but everything else.
5. Oil massage
Massages are always pleasant and relaxing, and are ideal for increasing sexual arousal and creating an ideal climate for sexual intercourse. The massage can be carried out in the same bed, where the person who receives it must be comfortable face down.
There are different types of oils with different aromas that produce different sensations. The touch, smell, and feel of the oil can be very stimulating, and a massage is ideal for foreplay in bed .
6. Sex bomb
The sex bomb is a juice in bed that provokes dynamite of pleasure. It is a simple game, which consists of taking a clock and setting a time interval in which it is not allowed to enter. If, for example, the time without penetration is 20 minutes, only caresses, kisses, bites, etc., are allowed until that stipulated time has passed.
7. Choose a piece of paper
A game that can be very erotic and can excite your senses. It consists of taking two jars or jars (for each of the two) in which to put a series of pieces of paper. Different verbs are written on each piece of paper that have to do with sexual and exciting acts, for example, suck, lick, bite, etc. In the other bottle will be the papers with the written parts of the body. The combination of the two pieces of paper will tell you what you should do to your partner so that he or she feels great pleasure.
8. Blindness
Another mythical game is that of blindfolding , because when one cannot see, the other bodily senses are intensified. The operation is simple; blindfold and let the couple do their job to satisfy us. Imagination plays a fundamental role in this game, which is ideal when combined with the detainee's game.
9. The battle
The bed can be turned into a fighting ring with this game, where it is not necessary to be violent, but it can be fun. The two members of the couple must undress and hold a cushion with which they must start a battle . It's not about hurting but about having a good time. This can lead to a relaxed atmosphere that can end in love rather than war.
10. What does my mouth taste like?
This game in bed is ideal to combine with the game of blindness. Well, when one of the two members of the couple is blindfolded, then the other places different foods in his mouth: chocolate, ice cream, strawberries, liqueurs, cream, etc.
The goal is for the person who is blindfolded to guess what the other person has in their mouth. If it is not correct, then the person who was not blindfolded will smear his body with the food and the person who has lost has to lick it and clean the body without using his hands.