More breaches expected at Manchar Lake as overflow continues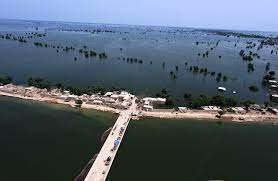 Irrigation department officials say level of water was last recorded at 25 feet.
Sources say two new breaches may be made to embankment.
Water continues to overflow from different points at Manchar Lake.
The city administration has decided to make two more breaches to the embankment at Manchar Lake as the water level has yet to recede due to the continuous deluge from Balochistan.
The dyke has already been breached once at the RD-14 point near Bagh-e-Yousuf due to the increased risk of the embankment breaking down as the water pressure grew.
Authorities in flood-hit Pakistan first breached the country's largest freshwater lake on Sunday, displacing up to 100,000 people from their homes but saving more densely populated areas from gathering flood water, a minister said.
Record monsoon rains and melting glaciers in Pakistan's northern mountains have brought floods that have affected 33 million people and killed at least 1,290, including 453 children. The inundation, blamed on climate change, is still spreading.
Manchar Lake, Pakistan's largest freshwater lake is used for water storage, and had already reached dangerous levels. The increased pressure posed a threat to surrounding areas in Sindh, Irrigation Minister Jam Khan Shoro said.
He said about 100,000 people would be affected by the breach but it would help save more populated clusters and also reduce water levels in other, harder-hit areas.
Officials from the irrigation department said that the water level in the lake was last recorded at 25 feet.
Sources said that breaches can be made to the embankment at the RD-55 and RD-80 points as there has been continuous overflow from different points of Manchar Lake.
The officials said that the water pressure will subside and will flow into the Indus River through Kiran Pur and Indus Link after the breaches are made.
The authorities had ordered the residents of nearby localities to move to safer areas due to the increased risk of the embankment breaking down consequent inundation of five union councils in Sehwan.
"By inflicting the breach we have tried to save Sehwan town. Water levels on Johi and Mehar towns in Dadu district would be reduced by this breach in the lake," Shoro had told Reuters.
Some displaced by the floods in Pakistan have complained that shelters are crowded, while others are reluctant to leave their possessions.
Aside from historic rainfall, southern Pakistan has had to contend with increased flooding as a surge of water flowed down the Indus river.
The country has already received nearly three times the 30-year average rainfall in the quarter through August, totalling 390.7 millimetres (15.38 inches). Sindh province, with a population of 50 million, was hardest hit, getting 464% more rain than the 30-year average.
Being downstream on the Indus River, the southern parts of the country have witnessed swelling river waters flowing from the north. Pakistan's limited dams and reservoirs are already overflowing and cannot be used to stop downstream flows.
Tarbela dam in the north-west, has been at capacity – 1,550 feet and 5.8 million acre feet – for weeks, according to National Disaster Management Authority (NDMA) data.
Downstream in Sindh, barrages are under pressure with the Indus River in high flood level, the NDMA said in its latest situation report.
Authorities also prepared for more rain in the north over the next few days up until Tuesday.
"Pakistan Meteorological Department (PMD) has forecast that weak monsoon currents from Arabian Sea are penetrating upper and central parts of the country which subsequently cause rain-wind / thundershowers," the NDMA said in an advisory.
It cautioned local administrations to be on an enhanced state of alertness, and to restrict vehicle movement in areas prone to flash floods and landslides as well as those close to water channels.
It said some populations in the north could be at risk, and advised "timely evacuation".
The overnight death toll from the floods increased by 25, of which 12 were children, according an NDMA update. The United Nations children's agency UNICEF said there was a risk of "many more" child deaths from disease after floods.
Prime Minister Shehbaz Sharif on Sunday appealed to UNICEF and other global agencies to help control child deaths.
"As Pakistan battles one of the worst climate-induced calamities, among the most adversely affected are children," Sharif said on Twitter.
On Sunday, flights carrying aid from UNICEF, Qatar and the United Arab Nations landed in Pakistan.
I am an experienced financial analyst & writer who is well known for his ability to foretell market trends as well.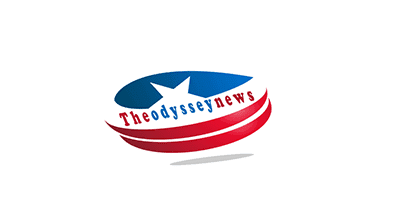 UK to pay half of business winter energy bills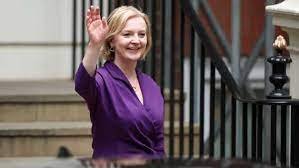 London: Britain on Wednesday launched a six-month plan starting in October to pay about half of energy bills for businesses, as Prime Minister Liz Truss seeks to stop companies going under as a result of rocketing prices.
The news precedes a mini-budget Friday when finance minister Kwasi Kwarteng is expected to unveil tax cuts to help a nation struggling with decades-high inflation.
Wholesale electricity and gas prices for businesses — except the energy sector — as well as charities, hospitals and schools will be capped at half the expected cost on the open market, the government said in a statement.
The announcement comes after Truss launched plans for a two-year household energy price freeze which also starts next month.
"We have stepped in to stop businesses collapsing, protect jobs and limit inflation," Kwarteng said Wednesday.
The chancellor of the exchequer will Friday set out the overall cost of both energy freeze schemes.
His budget will seek to boost economic growth amid forecasts that Britain will this year sink into recession on sky-high energy bills fuelled by the invasion of Ukraine by major oil and gas producer Russia.
The Confederation of British Industry (CBI) welcomed Wednesday´s announcement.
"The package will ease worries about otherwise viable businesses shutting-up shop," said Matthew Fell, chief policy director at the lobby group.
The CBI meanwhile urged a long-term energy solution to increase Britain´s supplies while ramping up efficiency measures to lower demand.
Truss took office on September 6, two days before the death of Queen Elizabeth II, after winning an election of Conservative party members on a tax-cutting platform.
She is committed to scrapping planned tax hikes on both company profits and salaries that predecessor Boris Johnson signed off upon.
Media reports suggest that the government will also scrap an EU limit on bankers´ bonuses following Brexit.
On the London stock market, homebuilders saw their shares rebound on speculation that Truss could cut tax levied on purchases of residential properties.
The tax-cutting plans like those proposed by Truss have come in for criticism from US President Joe Biden, who spoke out against the policy of "trickle-down economics" favoured by the Democrat´s Republican opponents.
The approach hinges on hopes that policies which immediately boost the wealthy will trickle down the economy to reach the less well-off.
"I am sick and tired of trickle-down economics. It has never worked," Biden had tweeted on Tuesday.
Speaking ahead of Biden´s tweet, Truss addressed this point.
"I don´t accept this argument that cutting taxes is somehow unfair," she told Sky News earlier this week.
"What we know is people on higher incomes generally pay more tax.
"So when you reduce taxes, there is often a disproportionate benefit because those people are paying more taxes in the first place," she added.
The two leaders meet Wednesday at the UN in New York.
A day later, the Bank of England is expected to once more ramp up its main interest rate in a bid to dampen sky-high inflation.
Economists warn that the UK´s cost-of-living measures will ravage public finances already reeling from pandemic expenditure.
Analysts from British bank Barclays estimate the cost of the government´s total spending could hit £235 billion ($267 billion).
While official data Wednesday showed British public borrowing improved in August, it is expected to surge as the government funds the planned tax cuts.
Public sector net borrowing, the state´s preferred measure of the deficit, hit £11.8 billion last month, the Office for National Statistics said.
That was down from £14.4 billion a year earlier but was far more than its pre-pandemic 2019 level of £5.3 billion.
I am an experienced financial analyst & writer who is well known for his ability to foretell market trends as well.