How to choose a business suit for women to a formal event?
You're the leading lady of your life, who is independent, bold, and confident, so why not dress like it? Your dressing style should always reflect your personality and aura. A study has shown that a person's dressing style is the first thing someone notices. When they meet them for the first time! And when it comes to formal events. There are many opportunities and chances that you will meet new people in the industry. And get to know them, and you will surely not want to mess up that opportunity. When you're dressing for a formal event, gowns and evening dresses are usually the first and foremost options in your mind. But if you're done with such fancy attire, you may try considering wearing a business suit for women to your next formal event. While business suits may seem like strictly formal wear, you can easily dress one up for a sleek. And sexy look that will surely make you stand out at a formal event or casual gatherings.
The key in dressing right for the occasion is choosing the appropriate style for your business suit. And pairing it with other clothing pieces adding a little glamour and elegance!
Always remember the first impression is always the last one; when you go out to formal events or official hangouts, you may want to dress up the most stylish and elegant way. In this article, I will share some fantastic styling tips that will help you stand out wherever you go wearing a formal business suit. So, buckle up, and let's get started!
Styling tips to follow when wearing a business suit to the formal event:
Be style-oriented- Selecting the perfect business suit is the best way to get dressed up for a formal event. In place of a suit in wool, linen, or any other traditional material, try selecting one made from a more striking fabric. For example, a velvet business suit is ideal for formal events in the fall season or other official hangouts.
You can also go for a formal suit with satin details and try mimicking a tuxedo! Satin lapels and a satin stripe down the sides of the suit pants will create an elegant look. Suits that feature striking details such as fishtail hem on the blazers will also work perfectly for a formal event or occasion.
Make statements with your top Whether you're wearing a sassy velvet business suit or the plain black pant-suit you wear to work, pairing it with the right top will help make it perfect for a formal occasion. For example, instead of a simple blouse or shirt, go for a tank top. A delicate lace tank top can also work well.
Though, if you feel daring, skip the undershirt or stop altogether and let your jacket create a plunging sassy neckline.  If your jacket slips away open, revealing too much, use discrete safety pins to hold it; together!
Say hello to comfy fit trousers- You should never keep fashion and style over your comfort. So if you don't feel comfortable wearing sleek fit bottom pants with a business suit, you can also go for comfort fit trousers!
They are comfortable, breezy, and light in weight. You can get them as per your wish, body size, and comfort. You can also go for a palazzo if you want to be bold and be a trendsetter!
Experiment with pant styles- Business pants for women are available in many styles and designs, including straight-leg, boot cut, and cigarette styles. While choosing a pair of pants for your business suit, select the cut that will best flatter your body type and size.
But, always be mindful of their length. If your business pants bunch at the bottom, try to make sure to take them to a tailor instead of cuffing them yourself.  And when it comes to choosing colours for your business pants. Neutral shades, such as black, navy, grey, or pastel shades.
Wear bold jewellery- A few well-chosen jewellery designs will help you dress up with a business suit for a formal event. Adding a large designer broach to the jacket's collar line with colourful shining stones. That will instantly make your suit look fancier. A dramatic statement necklace will also do the trick. Try a bib style with shining stones and pearls or a sassy rhinestone choker.
If you're styling your hair in an up-do, go for bold, beautiful earrings like in a chandelier style. A significant dropping styled with pearls or other diamonds will add a level of glamour and elegance to your look!
Pair up with sassy and bold footwear- At your workplace, you can wear business suits with a pair of simple leather boots designed in a neutral colour for a polished and aggressive look. At a formal event, though, you may want to go bolder with your footwear. For example, satin heels will give an elegant and dolled-up look. A neutral colour like black or grey will work well, but if you want to go bold, pair up with a bright red pair of heels with a black business suit or a white or silver pair of heels with a sea blue or navy business suit.
For a sassier look, you can try a pair of velvet peep-toe heels with your formal suit, or try adding shine with a strappy metallic sandal in a silver-ish or gold finish on them!
Let the suit, suit your body- Generally, business suits look glamorous on all body types and shapes. However, the cut of the blazer of the suit needs to be unique for different body types. As per my suggestion, always go for tailor-made and custom stitched business outfits, as they will be specially sized as per your body shape and size and will be designed just for you, making them look perfect for you. And, I am pretty sure; the custom stitched business suit will embrace your body curves too! While short-heightened women should try keeping the length of the jacket shorter. And pair those up usually with a straight-legged business suit to place a safe bet in terms of bottom wear!
Be considerate of shades- The color of your business suit for women should flatter you and be suitable for the event or occasion you're wearing them to. It may become difficult for few women to pull off an extremely bright coloured business suit, so try at your own risk! "All you women should never forget the event or the occasion. Aand also the place where you are going to wear business suits to. You can wear it to work, formal events, and casual after-work drinks and dinners or hangouts. Make sure you keep these tips in mind while shopping for a business suit!
So, these were some fantastic tips I have gathered just for you. Follow these tips and always keep them in mind. While shopping or styling for a business suit to wear at a formal event. Or an official get-together with your colleagues! So, let's break the tradition of wearing business suits just at your workplace and slay wherever you go. But, always keep in mind that if you're shopping for a business suit for women to wear at your workplace. Please don't follow the same tips, as there is a thin line between formal wear and casual wear. That you will surely don't want to cross!
Source: https://www.emuarticles.com/how-to-choose-a-business-suit-for-women-to-a-formal-event/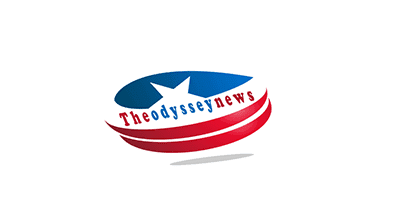 How Custom Candle Boxes Can Help You Make More Benefit For Your Business
Candles are one of the most delicate products and should be kept in good quality boxes. This is where the strength and sustainability of your packaging plays a major role. Your custom candle boxes will bring you more profit if they are created well.
What are the benefits of using these beautiful boxes?
Highlight the Existence and Value of Your Brand Name
Unique and distinctive Candle boxes This will increase the visibility of your brand name on shelves. Your candle-brand recognition will be increased by special printing designs on your boxes. Because of the attractive and impressive screen, more people will be aware of your products. This will help you to create your brand's unique identity and build your brand's reputation.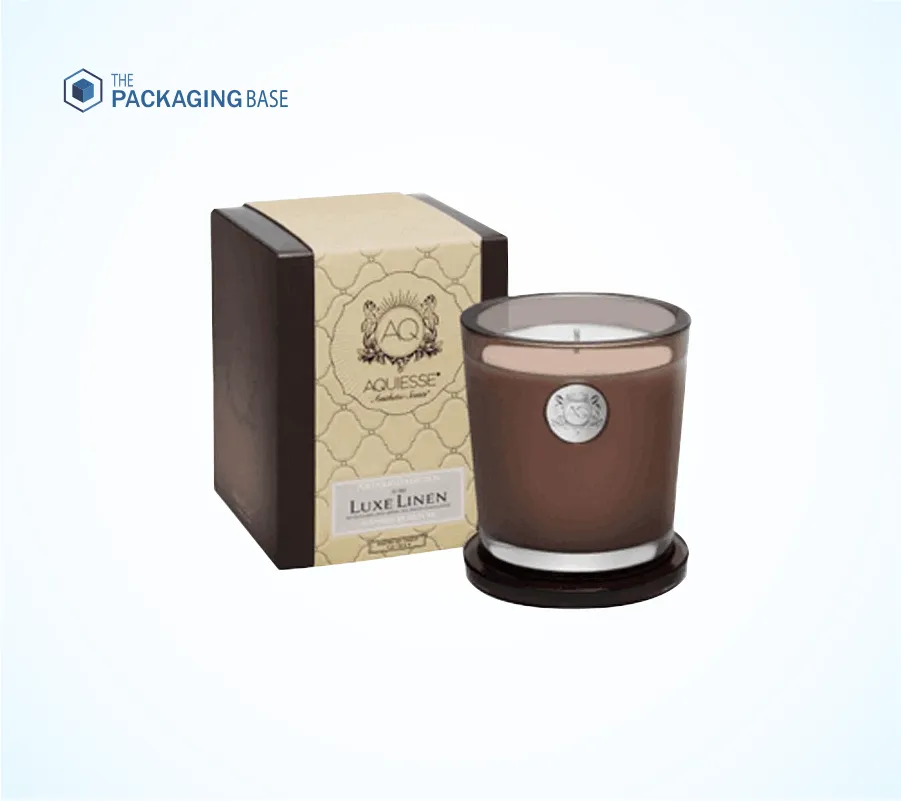 Customer Complete Satisfaction
Strong and reliable packaging boxes are essential to ensure that your products reach their ultimate customers in the best possible form. Your attractive candle lights will be delivered to the customers in a beautiful packaging box. They will be your biggest fan. You will make them feel happy and more fulfilled when they purchase your candle lights. They will be more satisfied and eager to share the joy with others.
Brand Name Commitment
It is a well-known fact that first impression is always the last impression. Customers who are satisfied with your products become loyal customers. They will never switch to another brand. They are loyal to your brand and will refer others to you via word of mouth.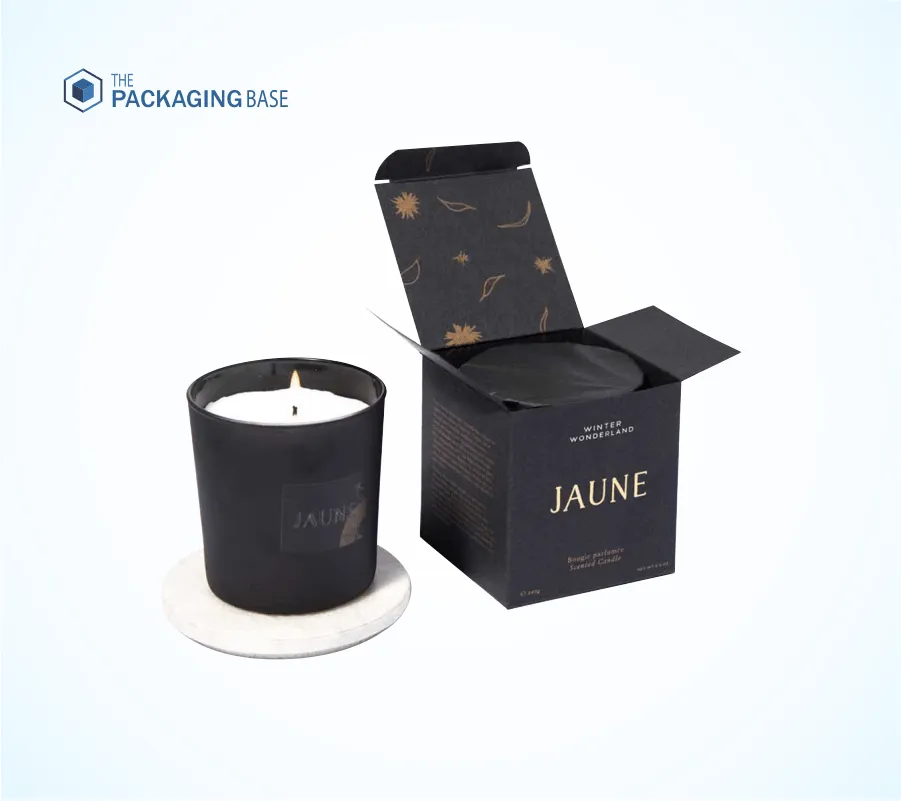 Security of your Candles
Kraft paper and cardboard are strong enough for candle lights to be protected from any damage. Your candle lights will remain intact and unaffected throughout their lifetime, whether they are on the shelf or shipped.
Wholesale Printed Candle Boxes Enhance Brand Visibility
No matter what type of boxes you use, all must have a business. These details include name, mottos, and any other information that is required. These printed candle box will allow you to communicate with potential customers in a unique way. It will also increase brand awareness as you spend a lot on creating a positive advertising environment for your brand. While custom-made boxes may not be as effective as other marketing strategies, they will help you tell a bigger story. Get printed candle boxes at wholesale rate from The Packaging Base
Packaging that is budget-friendly
Because they are affordable, customized candle boxes for wholesale are more important. These boxes can be used to meet the need for a product with a lower overall cost. While custom-made boxes are always done in the most efficient and effective way to keep your company competitive in the market, the situation is also true when these boxes may cost more than empty ones, but they offer many benefits for consumers. For a successful business, you should lower your business's budget and create a strong brand strategy.
How to Make Impressive Candle Boxes
Materials
Different temperatures and sunlight can affect the quality of candle lamps. Only strong, long-lasting packaging materials such as Kraft paper or cardboard can keep fragile goods safe and intact. These materials can protect your packed candles during storage and shipping. They can be reshaped or degraded.
Mishandling or inadvertent environmental conditions could also cause the destruction of delicate candles. It is important to use sturdy and robust candles to avoid these situations. candle packaging boxes Make sure to bring your candles.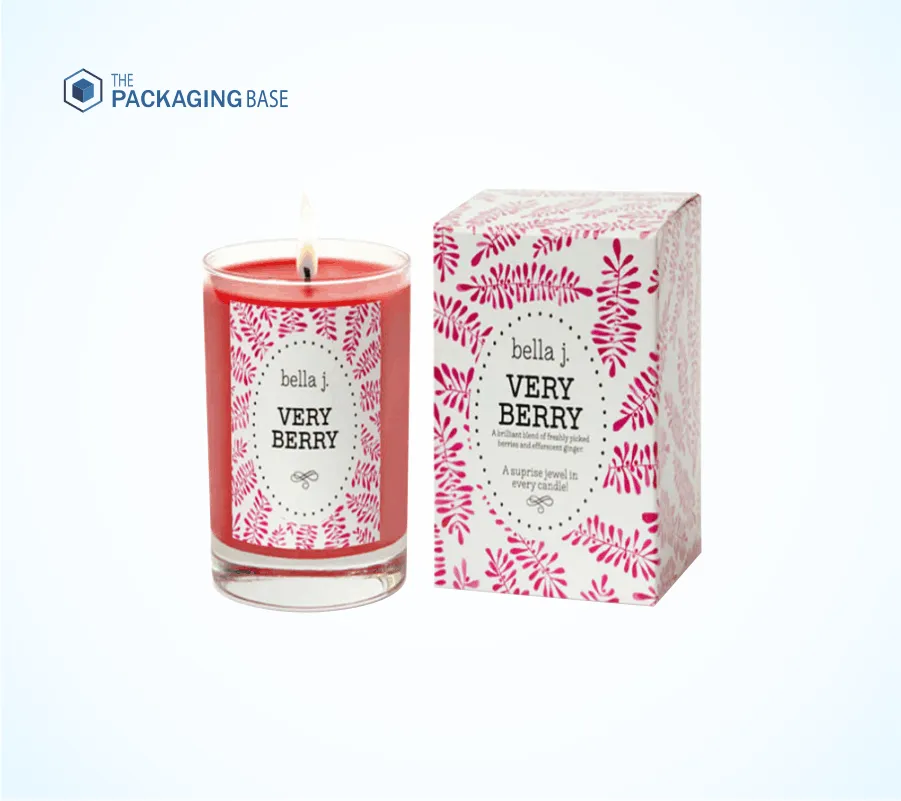 Ingenious ideas can also be used to make your boxes more appealing. You can also craft your own bespoke boxes as a brand to create a distinct brand identity. You can create your own customized boxes Candle boxes wholesale You will be unique and attract more customers' attention. You get the above benefits by using personalized candle light boxes.
To be fancy and fascinating Candle boxes are many options for using the latest techniques. Consumers will be attracted to boxes that are vibrant and intense in color. You can also print images or catchy slogans to impress your audience. Gift items that are distinctive and attractive include charming boxes.
To captivate the eye, decorate these boxes with ribbons and bows or flowers. You can make your candle boxes even more attractive and motivating by using UV printing, graphic creating or embossing. You can also use foil stamping in gold or silver to decorate your boxes.
Wrapping up
Your company is committed to delivering its exceptional product packaging services around the globe at customers' doorsteps. These amazing and unique wholesale candle boxes will increase your sales and make you more profit.