Dark brown henna hair color for grey hairs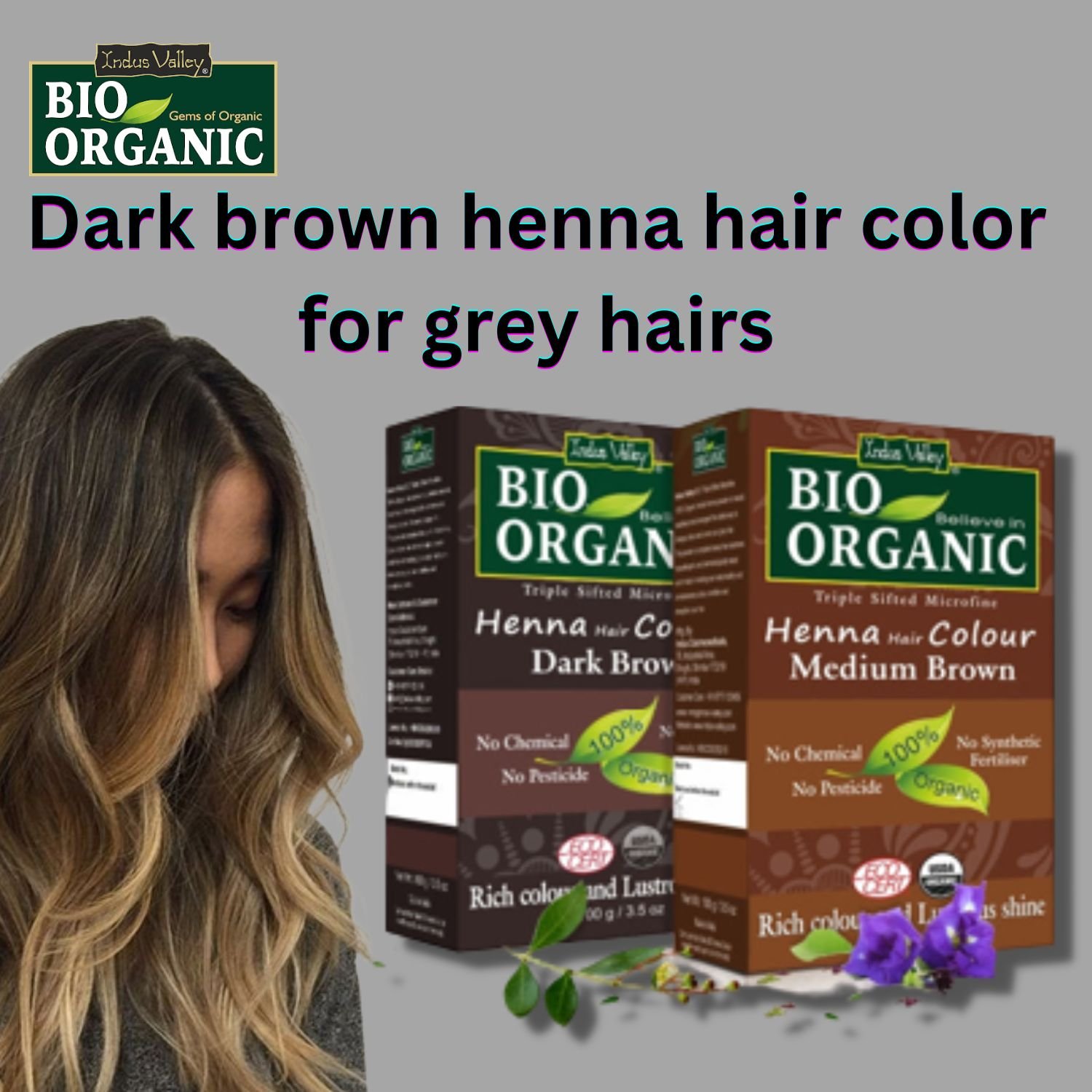 Did you realise that colouring your hair is not a recent trend? Yes, that is accurate. It is a phenomenon that dates back hundreds of years to the days when people dyed their hair with natural or plant-based dyes like henna or indigo. You probably recall how our grandmothers used to dye their hair naturally by applying henna on it. But have you ever wondered why using natural henna as a hair colour has become so popular? Its special antioxidants and conditioning qualities enable it to not only colour your hair without causing damage, but also to maintain the health and condition of your hair while doing so.
In this blog, we'll educate you on the great advantages of bio-organic henna colour (aside from hair colouring) so you can see why, if you haven't already, it's the natural hair colour option that is safest for you to select. Let's start.
What are the reasons to switch Natural Henna Powder over Chemical Hair Dyes?
Because henna leaves have a wealth of minerals and antioxidants, they are used to manufacture natural henna powder. It is a high source of vitamin E, fatty acids, and antioxidants including tannins, catechins, phenolics, and flavonoids, which sets it apart from other chemical hair colours on the market and makes it a healthy and damage-free hair colour solution for all hair and skin types.
5 Advantages of Organic Henna Powder for Strong Hair
The minerals and antioxidants found in organic henna dye support and nourish hair follicles, avoiding hair loss and damage to hair.
On the scalp, natural henna powder has a relaxing effect. Due to its antibacterial and antifungal characteristics, dandruff and bacterial infestations on the scalp are removed.
You must apply natural henna after combining it with a few drops of lemongrass oil twice a month if you suffer from severe dandruff or scalp itching. It will greatly lessen your dandruff in addition to nourishing your scalp.
As previously noted, natural henna powder is a great source of antioxidants such as tannins, catechins, phenols, and flavonoids that support and promote hair development. Henna powder's nutrients nourish the hair follicles to enhance hair quality and texture, which eventually reduces hair loss and breakage and encourages the growth of healthy new hair.
Reduces premature greying of hair
Depending on the colour and structure of your hair, henna is a natural hair colour that effectively conceals the grey strands by giving them a natural shade of red or orange. However, in addition to hiding your early greys, the antioxidants and phytochemicals in natural henna powder also work to slow down the premature greying process, allowing you to maintain the colour of your hair for a very long time. 
Regulates natural oil secretion
Sebum is the natural oil that our scalp secretes to keep our hair moisturised. However, if your sebum production is out of control, you might notice greasiness and irritation in your hair, which you can control by using bio-organic henna powder.
Henna powder that is both bio-organic and regularly applied controls sebum production and eliminates excess sebum buildup.
Conditions and repairs damaged hair
Bio-organic henna colour contains natural vitamins and nutrients that aid in repairing damaged hair that has been subjected to excessive chemical or heat styling. Every application leaves your hair silky, lustrous, and vivid without causing any negative effects or harm thanks to its natural conditioning capabilities. Because it doesn't induce allergies, it can be used on people with hypersensitivity or allergy-prone skin.
In Conclusion
According to customer feedback, the bio-organic henna colour from the company of Indus Valley is among the best ones currently on the market. Indus Valley Bio-Organic Henna Hair Colour is made from manually selected organic leaves of freshly harvested henna plants and is safe for all hair types, including those with sensitive or allergic scalps.
Do you have anything else to say about this discussion? Please feel free to contact us in the comments section below, and one of our hair colour experts will get back to you.
My name is Pawan Chauhan and I am SEO expert, writer, and blogger with a strong passion for writing.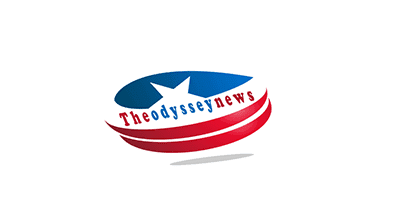 Why to hire a professional company for villa cleaning services Dubai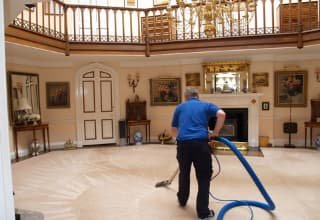 It may seem daunting at first, but hiring a professional cleaning company can save you time, money, and stress in the long run. You already have a busy schedule. Hiring an expert can take at least one worry off your to-do list. Still not sure if you should hire a professional company for villa cleaning services Dubai? Read on to discover the top 7 benefits of hiring a professional cleaning company. These perks allow you to free up time in your busy schedule and enjoy more "me" time.
Benefits of hiring a professional company for villa cleaning services Dubai
It takes time and stresses off your shoulders.
Your daily life is probably fine with that. You have to take the kids to school, work and clean the house. Everyday life requires time and effort that is not always available.
Cleaning may be at the bottom of your priority list.
What if you have an unexpected guest or a surprise dinner party? You need to make sure your house is immaculate. Otherwise, you may feel a little embarrassed about the state of your home.
With professional cleaning services, you don't have to spend time cleaning.
Instead, your home will look sparkling clean when you need it most. Hiring a professional house cleaning company can definitely take one item off your to-do list. Take time and stress to clean your shoulders.
Then you can turn your attention to other things.
Having professional deep cleaning services Dubai frees you up to focus on other activities. As a result, you can be more productive in reaching your bigger goals.
Your standards are higher.
A professional villa cleaning company probably has a higher standard of "clean" than you. A professional house cleaning company will actually get involved while you are cleaning and organizing. These professionals are trained and certified to provide the best possible service.
Attention to detail is important. If you don't, the dust could end up on the baseboard or hiding under the sofa and making a living.
Experts know where to look. They make sure your home is as clean as possible. With a busy life, you may not have time to do a deep cleaning. Hiring a professional gives you peace of mind that your home will be thoroughly cleaned.
There are many places in your home that you find difficult to clean yourself.
You can't see it; it's out of your head, right? Incorrect! Professional cleaners know how to reach these areas that are otherwise inaccessible.
They clean your home thoroughly to ensure your home is as sanitary as possible.
Pay only service fees.
Hire professional villa cleaning services Dubai, and you won't have to worry about team salaries and benefits. Don't worry about staff screening. Instead, you have the peace of mind that your team is properly trained, qualified and insured.
Knowing you are only paying for their services takes the time, money, and stress off your shoulders.
By paying only for the services you receive, you can focus on paying for what you need.
Get rid of allergens
More than 50 million Americans deal with allergies each year. In fact, allergies are her sixth leading cause of chronic illness in the country.
A variety of factors can trigger allergies, including:
tick
pollen
Dandruff
cockroach
Inhaling these allergies can cause sore throats, itchy eyes, coughing, and sneezing. Leaving dust around your home can exacerbate allergy-related health problems over time. Meanwhile, it may kick dust into the air every time it walks or sits down.
With a local cleaning service, you won't have to worry about ticks attacking your home. Instead, you can maintain a clean and healthy environment. This allows you to avoid health concerns and save money on allergy medications and doctor visits.