CYCLING FOR WEIGHT LOSS: WORKOUT IDEAS + EXPERT ADVICE
Getting started with cycling for weight loss
When it comes to cycling, before you even think about shifting pounds, you need to familiarise yourself with being on the bike, according to Togo Keynes, co-founder and head coach of Njinga Cycling. 'Begin slowly and don't commit to too much at the start,' says Keynes. 'You want to build up gradually while gaining confidence – and enjoy your cycling. Don't push yourself so hard you dread going out on the bike.'
Keynes has worked with a number of women needing help getting fit or losing weight post-pregnancy. They were all new to the sport, but caught the cycling bug fast. 'It's important to remember to start steadily and ride zone 2 efforts (the fat-burning endurance zone that should feel like a5/10 perceived effort),' says Keynes. 'This is a fairly low intensity and the best way to begin working on losing excess weight.' Keynes recommends beginning with riding 3-5 times a week for 20-30 minutes for four weeks, then building up to 30-40 minutes and increasing by 5-10 minutes every four weeks until you get to 60 minutes.
'Once you are riding comfortably for an hour, you can increase the perceived level of exertion from a 5/10 to a 6/10 effort for the last 20-30 percent of the ride,' he says. 'This will help you build a good solid fitness base. When rides start to feel much easier, you can increase the intensity and duration bit by bit.'
Complement your cycling with other exercises
What about cross-training? Will this help you shift the pounds on the bike?
'Absolutely!' says Keynes. 'A 30-minute strength and conditioning session 2-3 times a week can really help to boost your weight loss.' Targeting key cycling muscles, such as the quads, glutes, and hamstrings will improve your power on the bike and tone up your body.
'Resistance training helps build muscle mass and elevates your metabolism for longer. This is particularly helpful when focusing on weight loss,' he says. But finding the time and headspace isn't always easy. Keynes suggests choosing an organized cycling event to work towards and then start training for it. 'Getting focused on a goal can often provide the incentive to stay focused,' he says. 'Even if it's just your own goal distance by a certain date, start training for it. Keep a record of your sessions to track improvements both on the bike and with your body. There's nothing more motivating than seeing the kilos slowly start to drop off or the miles you can do in your 30-minute session slowly start to increase.'
Keep moving forward, both literally and figuratively, urges Keynes. And be accountable for your rides. 'Ride a few times a week with a friend or join a live online class where you have coach support and encouragement,' he says. 'If you are using an indoor bike, put on a great podcast to distract you.' Whatever you do: 'Don't let one bad day be the one that breaks your momentum. Put it aside and start again the next day.'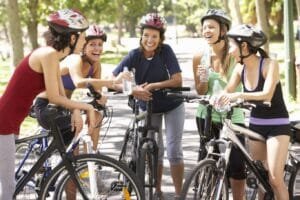 Cycling for weight loss: one woman's journey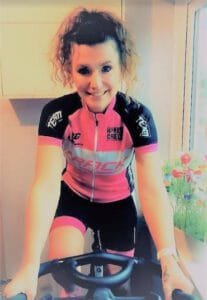 'After having children, I gained a lot of weight and found it so hard to shift. I was a member of a gym and took group exercise classes but seeing myself in the mirrors did nothing for my self-confidence. My mental health really suffered. I stayed out of all photographs, so I have very few of me from when the children were babies, and I was diagnosed with depression and prescribed antidepressants. I knew I needed to do something but I couldn't face the mirrors and feeling on the outside of the gym clique. But then my gym refurbished the Spin studio with blacked-out walls, disco lights, and not a mirror in sight, So I decided to give indoor cycling a go.
'I needed to do something.'
'I was really nervous at first; I didn't want to feel out of my depth, but I ventured into the studio wearing my husband's baggy tops and loose joggers and sat at the back, trying to keep up with the music and instructions. Being inside meant I felt safe and could hide, so I decided to do two classes a week, walking as much as I could in-between and cutting out junk food and alcohol while increasing my water intake. I didn't follow a special diet. I just ate healthily and had the occasional treat.
'The weight started to come off after a month of being on the indoor trainer. That spurred me on to keep going. Over time, I built up enough confidence to give outdoor cycling a go, too. I was lucky to find a cycling group called Club Velo 365. They made me feel so welcome and took the time to support me on my rides.
'That piqued my interest in "power cycling", so I researched it and took my fitness qualifications. The tech talk can seem intimidating at first – indoor bikes have all sorts of numbers and readings – but you don't need to get into all that unless you want to. The key is to get a feel for how much effort you're putting in so you can manipulate your energy system to become a fitter, more efficient rider.
'Just give it a go.'
'Thanks to cycling, I lost over four stone in two years. It wasn't linear but the process was positive for my physical and mental health. I'm now teaching my own classes and no longer need medication. Getting started is always hard but the key is to not put pressure on yourself. Just give it a go. People who genuinely love cycling won't care what you're wearing, how much your bike cost or how far you're going. The only bad ride is the one that didn't happen.'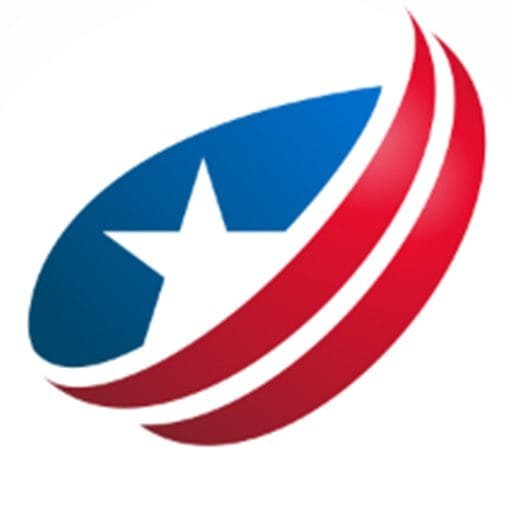 Odyssey has been the lead content writer and content marketer. He has vast experience in the field of writing. His SEO strategies help businesses to gain maximum traffic and success.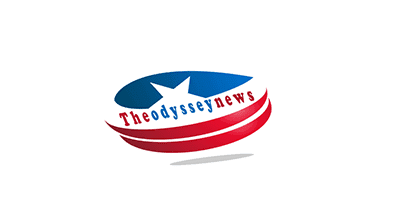 The Easiest Way To Become A Personal Trainer Online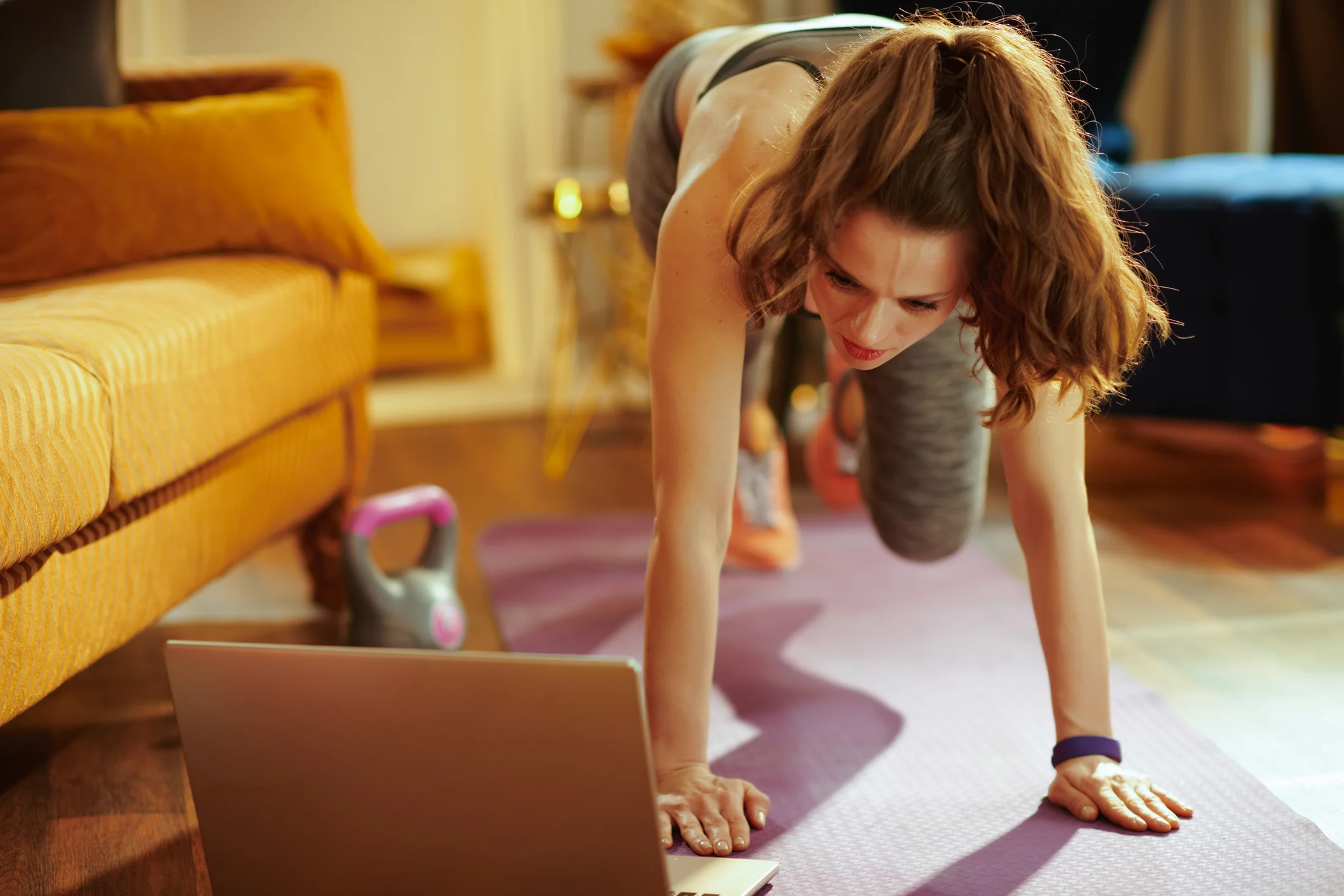 How much money do you need to make to become a personal trainer online? You might think it's thousands of dollars, but that's not true.
If you have some experience in the fitness field and know how to start your own business online, it can be effortless to become a personal trainer online and make some serious money within just a few months! Here's a step-by-step guide that provides the easiest way to become a personal trainer online.
However, if you want to know exactly how to become a personal trainer online, learn more and make thousands of dollars every month with your new business.
Step 1: Choosing a Certification
Choosing the right certification can be difficult. There are so many options! But this doesn't mean you're limited in any way. You can always take your certification and get it later, so don't feel too pressured to choose one yet.
But if you've done a little research, you might have found some criteria for determining which one is best for you. Some considerations include the number of hours or training required or the tuition cost – does the cost outweigh the benefits? Some other factors to consider are:
What types of clients will I work with?
How many classes am I taking each week? What kind of skills should I know before I begin?
Is this certification geared towards my personal training goal/preference?
Step 2: Enrolling in the Class
Go to any personal training enrolling websites and find their Training Certification program. Please fill out the form with your name, email address, and phone number, and tell them where you are.
After filling in your information, click continue. You will be taken to another page that has three main choices for how you want to complete the certification program: Classroom Instruction (self-paced), Individual Courses (self-paced), or Testing Only.
Choose the one that is best for you!
Step 3: Taking Your Exams
If you haven't done so already, it's time to schedule your exam(s). Scheduling an exam should be done in advance of the due date. It is required for you to have your CPR certification and First Aid certification before scheduling your exam.
Fill out the info and choose when you want to take the exam. You will not be able to take this exam again, so it is important to take it at a time when there will be no distractions and when you feel ready enough to pass.
Step 4: Passing Your Exams
If you're ready to become a personal trainer, the next step is to pass your exams. This can be done in two ways: through physical schools or by taking them online.
You'll have to research these options and see which one best suits your schedule and learning style.
Another thing you'll need to figure out is how much money you will need for training and certification costs because this can vary widely depending on the certifying body, as well as what kind of license exam you are planning on taking (Certified Strength and Conditioning Specialist? Physical Therapist Assistant? Athletic Coach?).
Step 5: Registering With An Organisation
Registering with an organization will allow you to work as a personal trainer and build your profile as an industry professional. This is also necessary to gain employment at most clubs and gyms.
Once you register with an organization, they will provide you with a registration number and issue certificates.
After registering with the organization of your choice, it is important to check whether or not any relevant laws in your province or state would affect your scope of practice.
The licensing process varies between states, provinces, and countries, so it's best to do your research before getting started.
Step 6. Market Yourself as an Expert in your Field
Part of the value of being a personal trainer is having experience in helping others achieve their fitness goals. As such, showcase the knowledge and expertise you've gained through years of training with before and after pictures or success stories from your clients.
However, don't just show your hard work – talk about how you can help clients with their fitness goals by providing tips and workout plans on your website or blog.
Conclusion
Becoming a personal trainer is simple if you have the right resources and time. You must go online, look for a reputable institution, and pay their course fees.
It doesn't get any easier than that!
Hello! My name is Mr. Abbax khan. I am a content writer & full-time professional Web Designer and Developer specially WORDPRESS with vast experience. I started my graduation in 2016 and graduated in 2020. I'm a professional article and blog writer, has written dozens of content on different topics and worked with professionals all over the globe.