Here's how to combat the problem and be more decisive
We can all relate to a situation where we have been tired, stressed, or generally not at our best and found we then made choices we later wish we hadn't, or just struggled to make them at all. This in essence is what decision fatigue is – an exhausting of our capacity to choose in a rational, well-considered, and timely manner.
How to spot the most common symptoms of decision fatigue
The most obvious sign will be an increasing rashness. We become more influenced by our emotions and can either find ourselves choosing quickly without full consideration of all the facts, or we end up winding down endless spirals of thought and never quite get to a comfortable conclusion.
We can also generally feel the weight of the world more intensely, we may experience low mood, headaches, generalized musculoskeletal pain, anxiety, broken sleep, and loss of concentration.
These effects will extend outside of the workplace too. You may have created the decision fatigue in the office but then on your way home you could find skip your gym class because you're so mentally exhausted, you end up opting for a ready meal over cooking dinner as you'd planned because the motivation is no longer there, and/or you more rashly decide to spend an exorbitant amount of money online shopping because your logical weighing up of things has been firmly left behind. Here are some tips on how to combat decision fatigue…
Nourish the nervous system
The more resilient your nervous system is to pressure, the more it can take in terms of burden. I myself, and the majority of my clients, turn to the Motion Nutrition nootropics (cognitive enhancers) Power Up and Unplug on a daily basis to create that tolerance to strain by providing all the nutrients it needs to function at its very best.
Pick your battles
Some things need to be deliberated and considered on a case-by-case basis, and some things can just be so. If you don't need to keep making new choices then don't, meal planning would be a good example here. Pick a rotating selection of breakfasts, lunches, and dinners, decide at the beginning of the week what you'll be having, and take this concern out of your day-to-day, this frees up space for other things.
Know your peak performance time
I would hope most people start their days off the back of a good night's sleep and feeling at their best, this would then be the time I suggest they maximize on in terms of those bigger or more taxing tasks. Get these out of the way first thing rather than spreading them over the course of the day, this prevents that progressive strain from building as you tire.
Give yourself positive feedback
Decision fatigue creates a feeling of being out of control but marking the completion of tasks as you go creates reinforcement that you are progressing forward. A tidy to-do list that gets things ticked off is a great way to both keep yourself on track and create a sense of clarity if you feel yourself going off-piste. I would clarify here that by tidy, I also mean succinct, stick to 5-7 things per day otherwise you'll end up with a list that adds to the overwhelm rather than aiding with it.
Break wisely
I will often encounter people who fear stepping away from something even if they're struggling as they take this as a form of failure, however, a well-timed recess can actually be exactly what you need. Just 15-20 minutes of walking out in the fresh air, a quick stretch, some deep breathing exercises, even taking a short nap, all of these offer a moment of calm for the body and mind to come back to itself and allow you to dive back in, cognitive capacity restored. If you track back up to my suggestion of knowing your peak performance times you could also identify your weak points and factor in a longer daily break, say at 3.30/4 pm for an hour.
Make this when you do your gym session, you'll feel revitalized and then be able to crack through to the end of the day at a far higher level of efficiency compared to if you'd slogged on through before trying to drag yourself to the gym after work. This will be limited by your working situation but if there is flexibility there, then make the most of it where you can.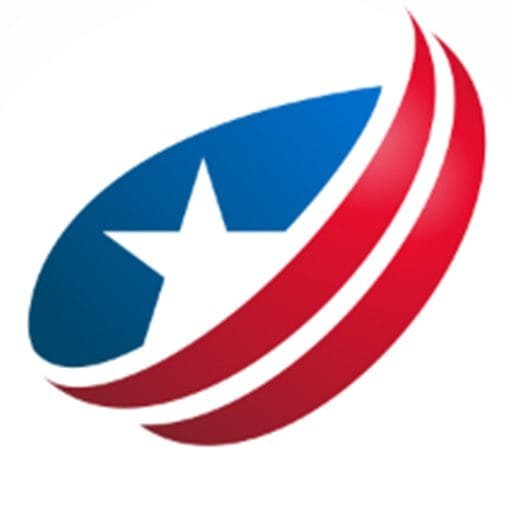 Odyssey has been the lead content writer and content marketer. He has vast experience in the field of writing. His SEO strategies help businesses to gain maximum traffic and success.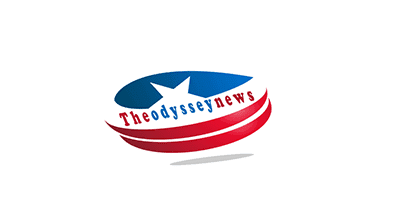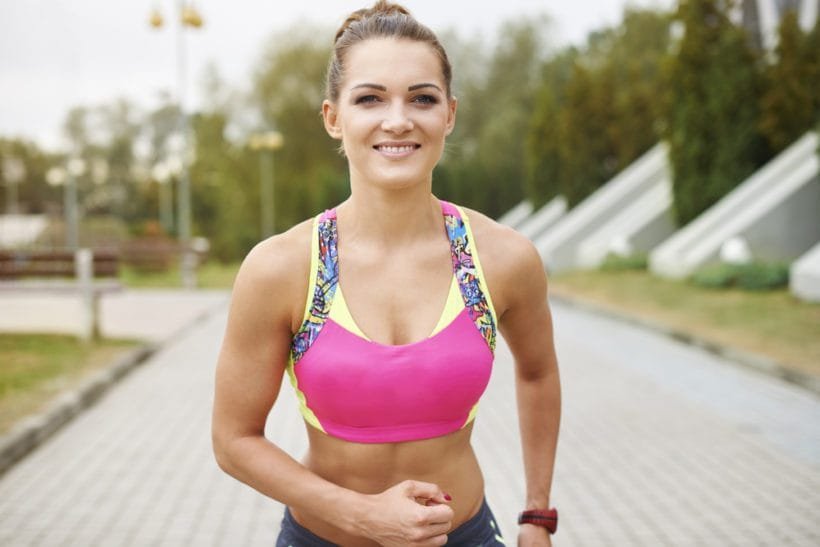 A supportive and comfortable sports bra is one of the most important pieces of kit in your running arsenal. We look at some of the best…
The humble running bra has come a long way since its 1979 beginning when it was simply two jockstraps sewn together and known as the 'Jockbra'. Understated? Sure, but for women sprinting sans support, it was a performance-enhancing revelation. Fast forward 42 years and the running bra has become an impressive feat of engineering.
In a bid to reduce breast pain during physical activity, scientists have measured the way boobs bounce, and discovered that they move in a butterfly-shaped motion – researchers at the University of Portsmouth report that breast tissue moves 50 percent up and down, 25 percent forwards and backward, and 25 percent side-to-side. That's a lot of movement to keep under control while you run.
And further data shows that insufficient support can do more than cause a bit of discomfort – it can reduce the activity of the pectoral muscle by 55 percent, which is something that may even contribute to muscle fatigue. It doesn't matter what speed you run at either – pace doesn't appear to increase or decrease movement – so here's what we should all consider…
The design
When it comes to running bras, high-impact support is crucial –there really is no debate about this. 'There is a greater degree of breast movement during running compared to other sports,' explains Laura Kong Brown, product manager for Runderwear. 'The average bra size in the UK is 34/36D and at this size, each breast will weigh 500g!' A well-fitted and supportive sports bra is, therefore, key, and there are two main types of running bras that fit the bill: compression and encapsulation.
'A running bra is specifically designed for high-impact activity, for which additional support is required,' explains Kong Brown. 'Compression bras work by pressing your breasts against your chest to reduce movement. Encapsulation bras compartmentalize each breast into separate cups, like normal bras but with extra support. This controls movement across all three planes of the body (up and down, in and out, and side to side).'
The design you choose will ultimately come down to your personal preference, but encapsulation bras tend to boast the most high-impact support because they are designed to separate and support each breast individually.
Measure up
Finding the right fit matters, but getting measured during the Covid era has proven difficult. 'Despite stores being closed, it remains vital that women measure their bra size at least once a year,' says Kong Brown, who recommends these home tricks to check you've bought the right fit. It's easy to see how hard it can be to find the right running bra, so we've followed up with a handful of our favorite bras to help you decide.
The underband: A good-fitting underband should sit flat across your back in a straight line. You should be able to fit two fingers in between your body and the band. When you buy a new sports bra, you should always wear it on the loosest hook – the extra hooks are a design feature so that when the elasticity wears over time, you can tighten the band.
The straps: In a well-fitted sports bra there should only be one inch of giving, meaning you can fit two fingers under the strap at the shoulder area.
The cups: A bra that fits properly will encapsulate your breasts perfectly. This means your breasts should not be spilling out of the bra. The signs of a poorly-fitted cup include having room between the cup and the skin or wrinkling in the cup of the bra, both of which indicate that it is too big.
SHOCK ABSORBER ULTIMATE RUN BRA, £46
Shock Absorber's award-winning Ultimate Run Bra has long been the go-to for women who do high-impact activities such as running, pleasing both smaller and larger chested fitness fans alike. Its special design features an Infinity-8 support system, which counteracts the figure-of-eight movement breasts go through as you run, and University of Portsmouth tests show it reduces bounce by as much as 78 percent. Indeed, it's a winner in our books for its padded and adjustable straps alone! We tried the non-padded version (available up to a G cup) but a padded option is also available (£49; available up to an F cup) for those who prefer molded cups. shockabsorber.

Best on test
RUNDERWEAR EASY-ON BRA, £55
The Runderwear bra has become a firm favorite among those in the running community of late and it's not hard to see why. Indeed, it's been so sleekly designed that you'll barely notice it's there. Featuring molded cups and an encapsulated cut, it keeps boobs supported whatever size you are because it's available up to a GG cup. It doesn't nip around the insides of the shoulder blades either, thanks to its open back rather than racerback design. The padded shoulder straps are a thoughtful extra for both small or large sizes, as they prevent straps and the adjustable clips on straps from digging in as you drive your arms. What's more, the soft fabric wicks sweat away like no other bra on test – you won't be peeling off a drippy, sweaty number with this option! Runderwear.co.uk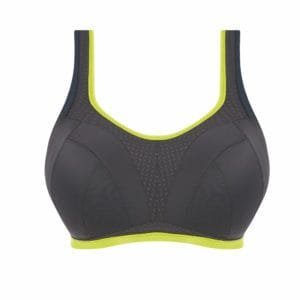 FREYA ACTIVE DYNAMIC SPORTS BRA, £34
While molded cups can flatter, they're not for everyone, and we appreciate that sometimes only a non-padded option will do. Enter Freya Active's hugely supportive Dynamic Bra, which we really rate for running. It works by encapsulating the breasts and anchoring them in place with a wide and strong, but equally soft and comfortable, underband. The fit is perfect, with the neckline cutting just above the chest to keep everything steady. The four-hook fastening at the back means that this bra continues to fit after multiple wears and washes. Plus, we love the addition of a J-hook fastener for choosing a racerback or open back option. freyalingerie.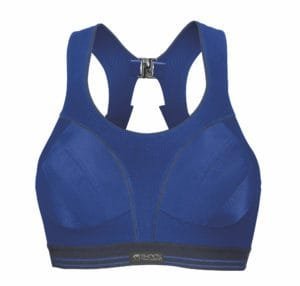 ASICS ACCELERATE BRA, £40
Global running brand Asics not only masterfully creates running shoes and clothing, but also boasts high-impact support bras. Unlike the others on the test, this bra uses compression technology to beat breast bounce, making it a good option for smaller sizes. In fact, you'll be surprised how much support a bra that fits over the shoulders can offer. Style is key here, as the higher cut and mesh paneling around the front means that you won't think twice about wearing it as a crop top on hotter days. You can adjust the straps for a tailored fit, but it doesn't measure according to bra sizes (available in XS to XL) so it's worth considering whether that's important to you. asics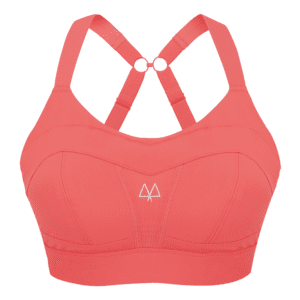 MAREE SOLIDARITY, £64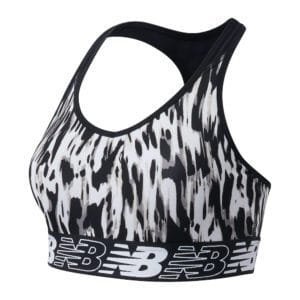 Hats off to Mari Thomas, Maaree's founder, and experienced tester. Frustrated she'd never find a bra that could suppress the upward bounce, she designed one herself. Enter a reassuringly substantial bra with a trademarked Overband – a curved panel that runs over the top of the breasts – that's anchored, via adjustable side straps, to the very wide and supportive underband. All this works to banish a huge amount of breast movement and keeps a flattering silhouette, too. The bra comes in sizes 30C to 38G, can be worn racerback or classic style,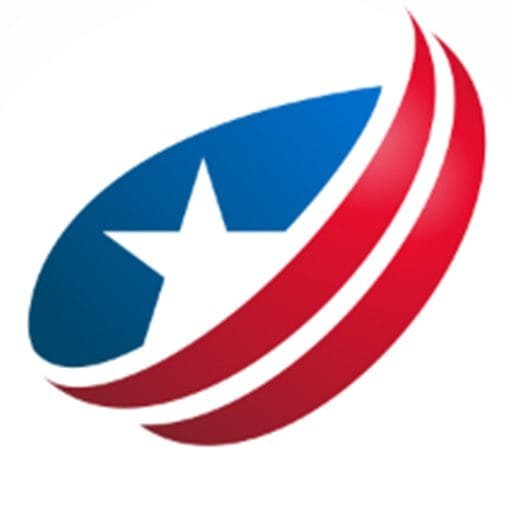 Odyssey has been the lead content writer and content marketer. He has vast experience in the field of writing. His SEO strategies help businesses to gain maximum traffic and success.