They're Changing The New Normal-Rafi Nova Is Making Clear Masks For The Deaf Community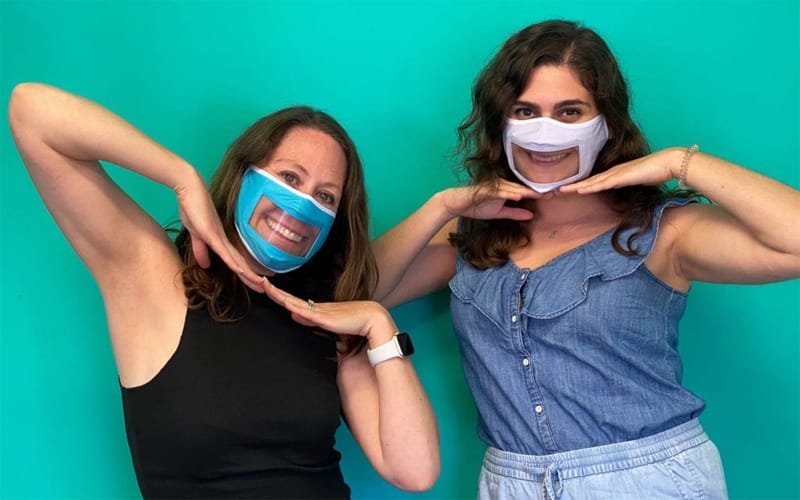 Rafi Nova is changing the "new normal" for the better by creating masks with a transparent mouth covering for the deaf and hard-of-hearing community.
Rafi Nova is a company started by two people who had the vision to sell accessories for traveling. Unfortunately, the company was launched just weeks before the Coronavirus pandemic hit and the sudden decrease in travel negatively impacted their business.
After coming together to decide what they should do moving forward, they decided to make the best of a bad situation when one of the founder's children said to make masks.
They decided to take making masks one step further and accommodate a community in need during this new normal of mask-wearing. Now, Rafi Nova makes masks with a clear panel in the front so that people who are deaf and hard of hearing can see people's mouths underneath their masks.
Along with the making of clear masks, Rafi Nova has a work environment that is unmatched by any other.
Their company is like a family and the work community present at Rafi Nova made the transition from their normal products to masks that much easier.
Founders Adam and Marissa Goldstein had some great ideas thus far in their career as business owners and in addition to sharing information on the smiling mask, shared some information and tips on how to become a successful business owner.
I had the absolute privilege of interviewing the founders about their new masks and their business practices and here is what they said:
1. How was the company name decided upon and created?
Rafi Nova was inspired by our travels with our two sets of children – Raya, Efi, Noa, and Eva. We want to build a company that reflects our values and there is nothing that reflects that more clearly than your children.
2. How was the shift from regular products to masks?
We launched Rafi Nova as an accessories brand with the mission to inspire parents to get out and go in February 2020 — which was probably the worst time in history to launch a brand encouraging travel.
Just a few weeks after the launch, the coronavirus pandemic struck, and we needed to reevaluate our plan for the brand. We spent some time brainstorming solutions, until one day our daughter Eva said "make masks."
3. How are the masks constructed to benefit the deaf and hard-of-hearing communities?
We make the Smile Masks with a wide clear panel that allows the mask wearer's mouth to be visible.
We also made sure that the masks had adjustable straps to accommodate hearing aids or cochlear implants.
While the Smile Mask was designed with the hard of hearing and the deaf community in mind, we have seen that the masks are beneficial to a wide variety of communities and professions. Facial expressions are essential in establishing trust.
4. What is your greatest takeaway from shifting your company's focus to benefit the consumer need amidst a pandemic?
Create well-made, thoughtful products that people need!
5. What is your favorite part about running a business?
Being able to build an amazing team and getting to work with them every day!
6. What kind of work environment do you have at your company? Is everyone friends outside the office?
Yes! We have a super fun, very open, and collaborative atmosphere. At the same time, everyone is extremely hard working and gets their work done.
7. What is the best piece of advice to give to anyone who wants to start their own company?
Just do it! The timing will never be perfect. If you wait until everything is "perfect" you will miss out on the opportunity. Start small — but just start!
With business advice like this, Rafi Nova is clearly an up and coming company with founders that have a sense of community.
The ability for them to flip the switch from travel accessories to masks is a pretty admirable feat and one that should definitely be recognized.
Their products are, in a way, one of a kind as there isn't anything on the market right now quite like the smiling mask.
The smiling mask comes in a two-pack that retails for $30, accommodates cochlear implants and hearing aids, and enables people to continue using non-verbal communication.
There are also sales and deals for certain products as they make regular masks, kids masks, and anti-fog masks in addition to the smiling mask with the clear panel.
Rafi Nova is doing a great thing for all sorts of people that will benefit from being able to regain the use of non-verbal communication like teachers, speech pathologists, and those that are deaf and hard of hearing.
Shonda Rimes' 'Bridgerton' Fashion Is Making A Comeback In 2021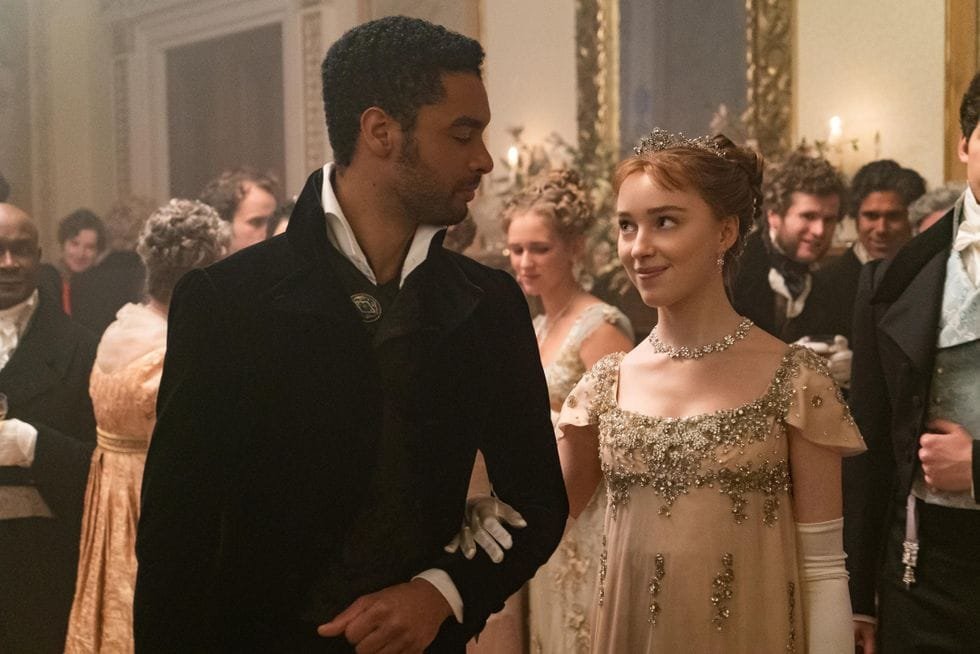 Do it. Be bold.
"Bridgerton' is a period drama created by Chris Van Dusen and produced by Shonda Rhimes based on a series of novels written by Julia Quinn. The show follows the eight siblings of the Bridgerton family as they attempt to find love and happiness in London high society.
Since its release, Bridgerton has taken the world by storm and has left every viewer talking about it. While fans of the show have been left with a lot to discuss, one of the conversations I hear most frequently is about fashion. Fans can't get enough of the show's regal and vintage fashion. So much so that this new interest in fashion from this era has been dubbed as "Regencycore." As the popularity of this show and similar shows only continues to grow, I suspect to see this trend only continue to grow throughout the next year. So here is how I think Bridgerton and Regencycore style will affect fashion trends in 2021.
1. Corset tops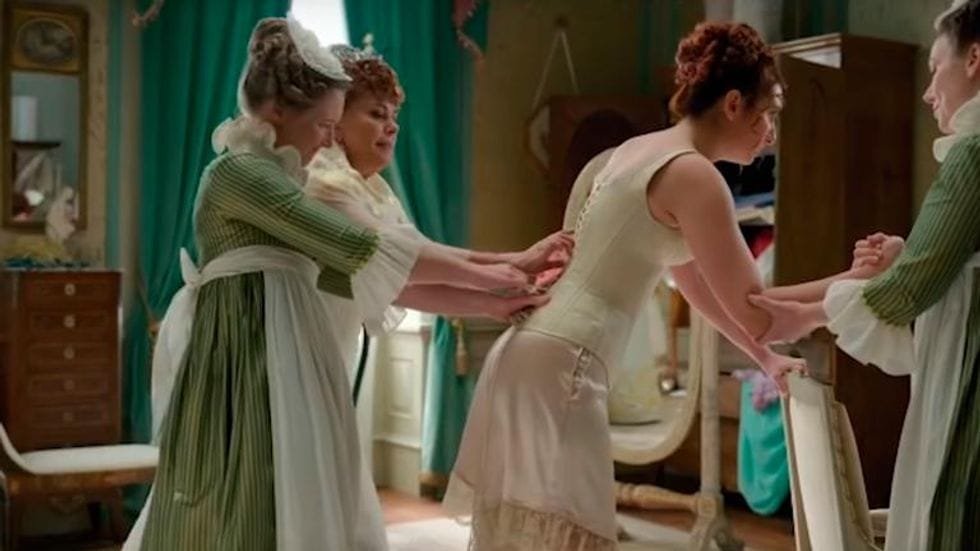 Over the years, corset tops have started to make a comeback. It started slow but began gaining popularity in 2019 when women viewed them as a way to accentuate their figure. Now it is one of the best ways to achieve a vintage look with a modern twist. Personally, I think vibrant corset tops will be all the rage as we get into the spring months.
2. Puff sleeves
Throughout 2020, puff sleeves were a major trend and I think it will remain pretty popular throughout the next year. I've already seen a lot of women rock a puff sleeve corset detail top this year. Honestly, this trend is a hit with me and I really hope it sticks around.
3. Floral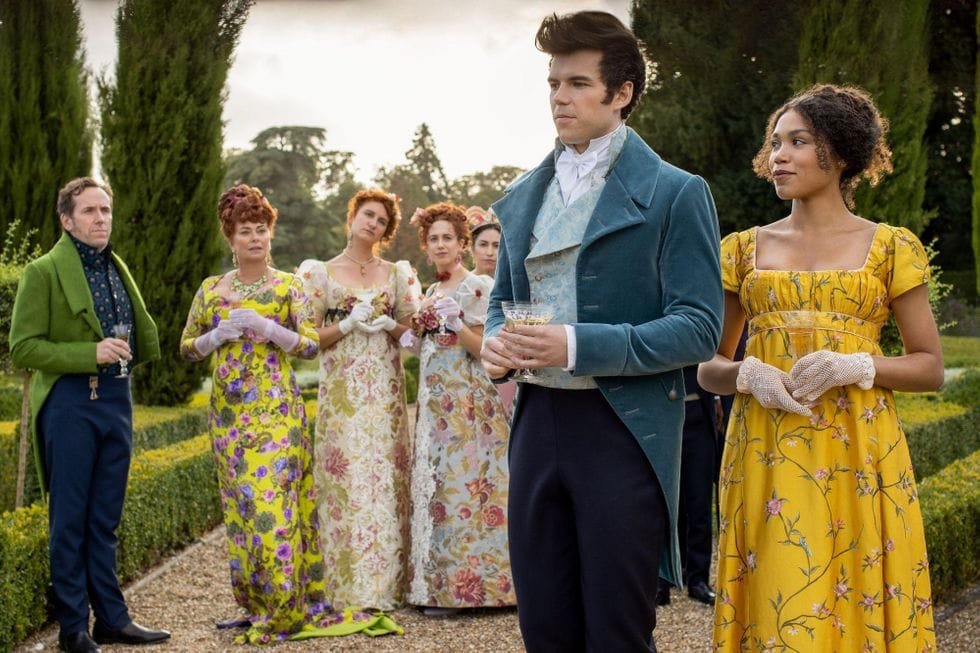 Floral is a trend that is constantly coming and going. You really can't ever get rid of it. For the spring, I think floral is going to be a staple in fashion in order to help achieve the vintage aesthetic that many want to achieve.
4. Midi Dresses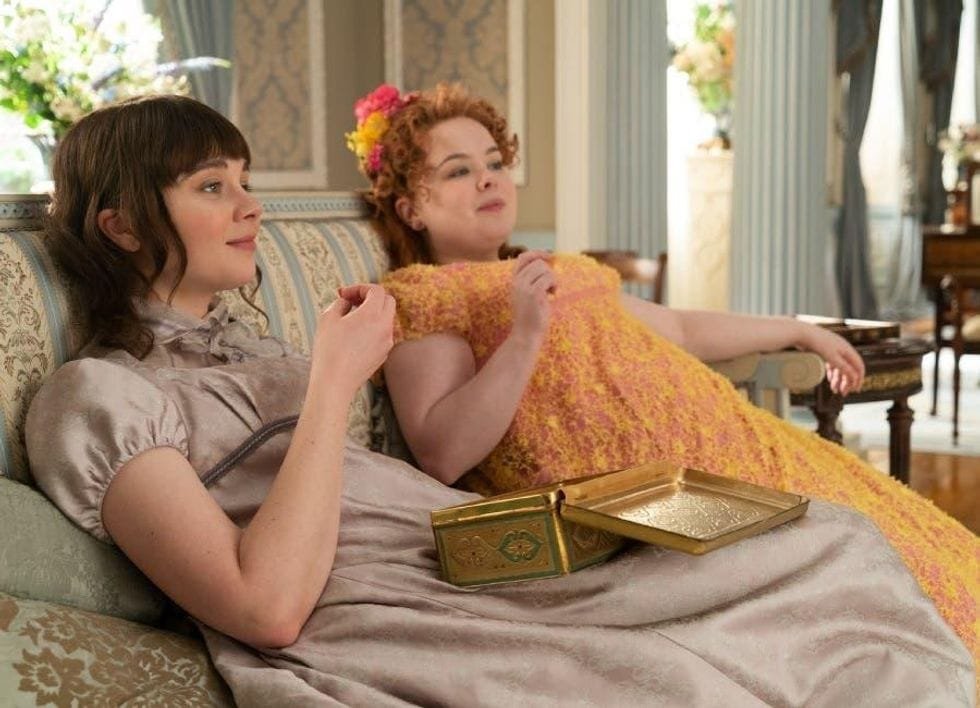 This spring, I think midi dresses are going to be another great way for individuals to achieve a vintage aesthetic. The reason I think that midi dresses will be so popular is that is it is a great way you can combine some of the other trends as well. There are so many cute midi dresses that also combine florals or a puff sleeve. There's also something very elegant and whimsical about this style of dress that I think a lot of people will like.
5. All of the accessories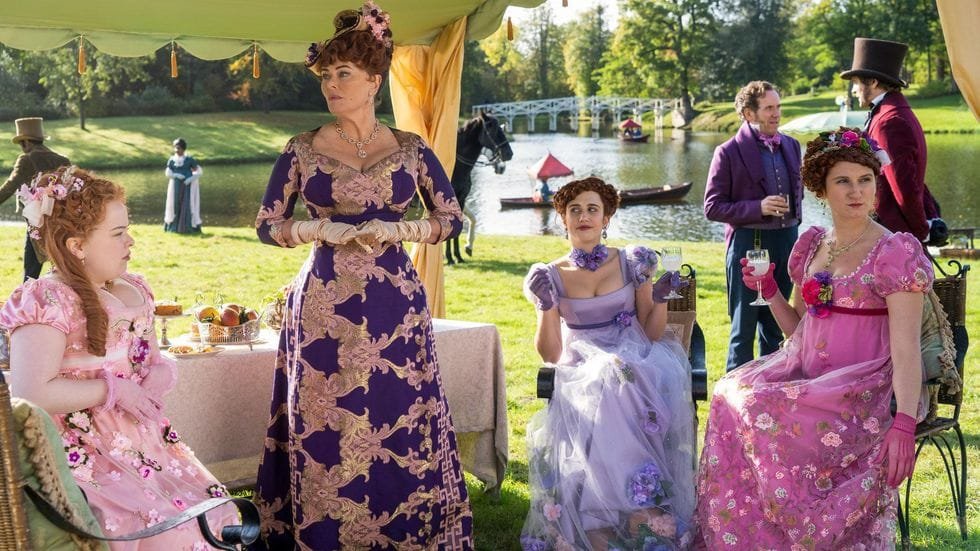 In Bridgerton, the women are known to over-accessorize. In order to achieve this look, I see a move less towards dainty jewelry and back towards statement pieces. I also see headpieces such as headbands, ribbons, and maybe even flower crowns coming back. That will really depend on how people decide to style it. Finally, in accessories, I've read a lot about gloves. Personally, I am not really interested in gloves but I know a lot of people are feeling inspired to bring gloves back in fashion.
Some Basic Tips For Male Natual Skin Care Products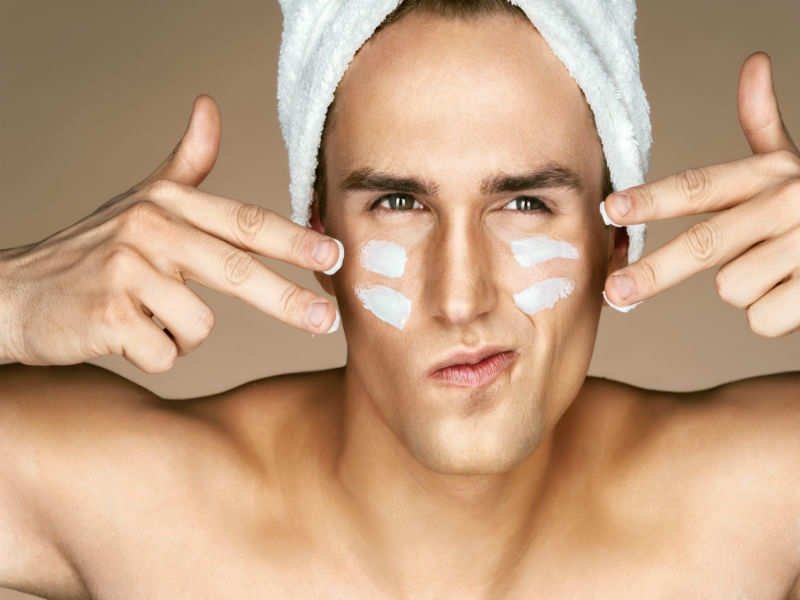 Diamond Glow Cream Cost –  Acne could be a serious skin ailment that has millions men and women around planet physically and mentally. Many individuals think since they can only notice acne on their face, and also chest it's only an epidermis disorder. However, the reality does it have is more complex than just that.

Get a facial skin treatment. Getting a facial is great to be able to clear from the skin through the deep-seated dirt and impurities you simply may gain. Our skin changes as the climate do so it is vital to ready your skin might ease the growing season transition. In addition to that, starting having a clean face allows your winter skincare routine to be able to more flourishing.
Hydrate: Keep your skin properly hydrated by drinking the most 8 associated with water regularly. Water helps to keep skin tone hydrated assists your body eliminate dangers.
If decide on an effective aging Skin Care Routine, then there's always something good be addressing both in the causes of aging skin pores. You can reduce the signs of aging in skin tone if you use skin care products that contain natural ingredients that work making it the vital skin necessary protein. In addition, the product should contain antioxidants likewise allows help to turn back damage brought about by free radicals.
Find a facial cleanser that matches your type of skin. There are special solutions and oil-free cleansers for greasy skin, combination skin, normal skin, and dry flesh.
Moisturizing will be the second essential part of the male diet. Because the skin is very likely to premature aging due to sun exposure and pollution, moisture end up being retained to serve as a protective layer while preventing dehydration. Get only performed with help from moisturizers. Moisturizing the skin can also control oiliness by preventing the overproduction of oil after detoxifies. Your choice of moisturizer must be specific for the male skin and, if possible, Diamond Glow Anti Wrinkle Cream needs to be the same brand as your cleanser. If not of point brand, your moisturizer should work well with your cleanser.
Cleanse, tone, and use a skin moisturizer. This is the core of your skincare software. It is very important to in order to what works. Skipping just one day can cause imbalance and you might end up with nasty zits and problems spots following that. Make sure to use products designed towards the skin kind. And don't forget to exfoliate once.
Another amongst the Skin Care Tips that cosmaceutical companies can never be bothered to inform you about reality their products contain harmful ingredients that might damage our health and wellness. Any dangers and risks are played. But we know that the effects are downright disappointing and we don't need being scientists to realize that.
Protect yourself from the sun: Make use of a proper sunblock that protects yourself from harsh Ultraviolet rays. If you feel that your sunblock is not doing its job properly then it isn't the right sunblock to anyone personally.